Is Mingle Cash a Scam? $57 Per Day on Autopilot – Really?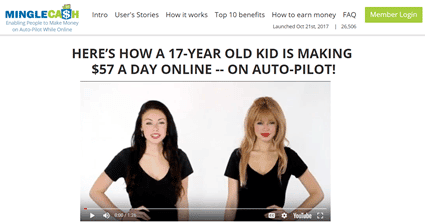 Two young ladies want to show you how a 17-year-old kid is making $57 per day online on autopilot.
They introduce to you Mingle Cash and try to convince you that it will generate an income even while you sleep!
Is Mingle Cash a scam or legit opportunity to finally earn passive income online?
I decided to install their "money" browser to see what I could squeeze from it.
So, check out my review where I explain all you need to know about Mingle Cash and give you my honest opinion about it.
By the way, if you want to learn step by step the same strategy that earns me $1,000+ per month from my laptop, check out my #1 recommendation! (newbie-friendly and free to get started!)
Mingle Cash Review
---
Name: Mingle Cash
Website: www.minglecash.com
Type: GPT (get paid to)
Price: Free to join
  

2.1/5
The Hype
---
Mingle Cash's sales page is suggesting that you can make $57 per day or even more simply by:
Surfing the Internet
Referring others.
Doing Google searches.
Playing games.
Completing offers.
Watching videos.
Downloading apps.
Taking online surveys.
And more!
They say there are no financial risks as the platform is completely free to join.
You probably think that $57/day is too good to be true because you know that if the road to financial freedom were easy, everyone would be wealthy.
Guess what?!
The sales page is overhyped and gives people unrealistic expectations of what they can earn.
I am not saying you can't achieve that income level, but you will have to refer hundreds if not thousands of people daily. And that, my friend, require you to become an internet marketing "guru."
By that time, you'd have concluded that you could be making much more than $57 per day by promoting something else or selling your own product.
Sure, you won't be able to earn a job-replacing income just by watching videos and surfing the web!
What is Mingle Cash?
---
Mingle Cash is a GPT (get paid to) platform where you can get paid for all those easy activities that I mentioned.
There are a plethora of GPT sites on the Internet. Just on this blog, I reviewed more than 50!
What makes Mingle Cash unique is the Mingle Cash Browser, which rewards users for surfing the web.
Qmee pays for searching, but Mingle Cash takes it to another level.
Is Mingle Cash a Scam?
---
I don't believe Mingle Cash will scam you out of your money because it's 100% free.
However, as I haven't tried to withdraw my earnings, I can't give you any guarantees that they are going to pay you.
One thing that I noticed right off the bat was that the site has no terms and conditions and, as importantly, no privacy policy.
So, you are encouraged to sign up without a clue as to what your rights and duties as a user are, and what they will do with your personal data.
That is a good reason to be concerned.
I always recommend my readers to build an internet business to earn passive income online. Click here to learn how!
Pros and Cons
---
Pros
It's available worldwide, as long as your country accepts PayPal.
Available for PC and Android devices.
There is a 10 tier referral program.
There is an eBook with useful tips to promote Mingle Cash.
Cons
There is no terms and conditions nor a privacy policy page.
Some advertisers are not trustworthy.
Small income potential.
Small referral commission.
How Does it Work?
---
Registration
The registration is free and painless. All you need to do is provide your email, choose a password and click the confirmation link they will send your inbox.
There are 4 ways to start earning with Mingle Cash:
1. Download Browser
When you log in for the first time, the first instruction they will give you is to download their Mingle Cash browser.
Instead of using Google Chrome, Firefox or the Internet Explorer, you can surf the internet using their browser to earn money.
You just need to use the internet like you always do, and when you search the web, you will see different types of ads including:
Banners
Video ads,
Pop-unders
Contextual ads.
It can be quite annoying when you click on a search result, and another page pops up.
Another important difference when using this browser is that it inserts links everywhere on any text that you are reading. These are called contextual ads.
Here is an example:

How much will you get paid?
They claim you will earn cash for every pop-under that you view for 3 seconds as well as other types of ads.
However, it's not clear as to how much they will pay you.
I tested the browser for about 5 minutes, searched on Google, clicked on many ads and made less than $0.01.
Later on, I discovered it's possible to receive pop-unders more often by changing the settings. That will allow you to increase your earning potential.
Also, they give you the option to allow adult advertising.
Here is the proof: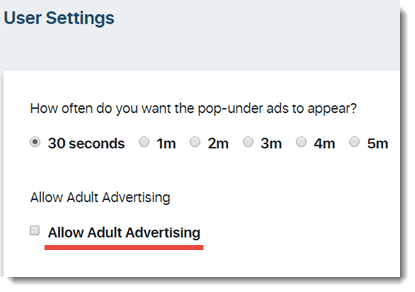 One thing I need to warn you is that some ads were directing me to a site about a PC repair software.
This type of software usually comes infected with adware and unwanted programs.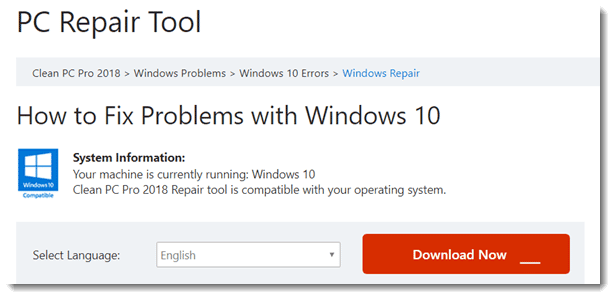 Not to mention my anti-virus identified and blocked a fishing URL.
Here is the proof: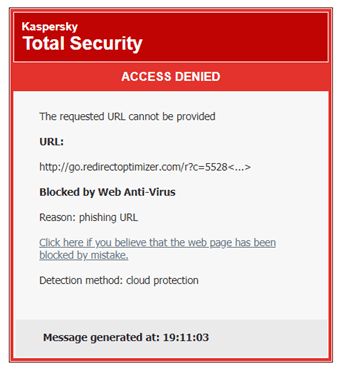 So, for this reason, I don't think Mingle Cash browser is safe to use as they don't seem to screen out advertisers properly. Some of them are not trustworthy.
2. Play and Earn
What about earning some cash for playing games? Easy, right?
You must play a game for at least 90 seconds. That time also includes a video ad that you have to watch for at least 30 minutes before the game starts.
If you skip the video before 30 seconds, you won't get credited.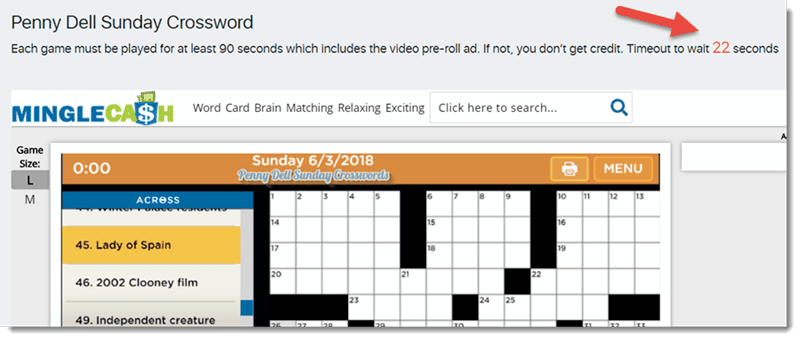 How much will you get paid?
It depends on your country. For tier 1 countries (USA and UK), the payout is $0.005 per game, which, although small, is the highest.
The payout is a measly $0.00005 per game for most countries.
Offer Wall
Offer walls are very popular with GPT platforms, and they are usually partner with the same companies such as:
Offertoro
AdgateMedia
persona.ly
AdscendMedia
And a few others.
Each Offer Wall gives you the opportunity to earn cash for completing offers, taking surveys, downloading apps and more.
Read the terms and conditions carefully before accepting any offer as you may end up making a deposit that is higher than your reward.
Many offers will also collect your personal data and contact details to bombard you with marketing messages and calls.
How much will you get paid?
You can expect to earn between a few cents to $3 per offer, survey or task.
Referral Program
---
The referral program is simple:
Share your affiliate link and earn 5% of your referral's income. You will also earn 5% commissions from your downline, which goes 10 levels deep.
The owner of Mingle Cash tries to convince you that it's possible to earn $24,000 per day with his 10-tier referral program.
In his own words:
If you refer 5 people, and those 5 people each refer 5 people and this continues for 10 levels, you'll have over 9.7 million users in your downline!
He provides a 63-page ebook with 20+ marketing tips to promote your affiliate links.
You can find this book by clicking on "help" > "referral tips."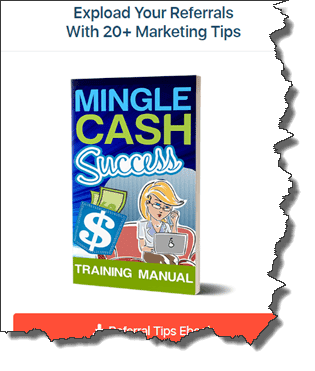 I have to confess I was impressed with the amount of valuable information there.
However, I wouldn't recommend investing in paid advertising to promote Mingle Cash. That is because I believe you will lose money.
Think about it. The platform doesn't offer a significant income potential, so not many referrals will be active to cover the costs of advertising.
5% is a such a small commission rate for a GPT platform. So, as I said earlier, you will need to refer hundreds or thousands of people on a daily basis.
It's a BIG challenge, folks!
Final Thoughts
---
I guess most people will earn a few cents per day and eventually give up using Mingle Cash.
Some will try to promote the platform on social media and traffic exchanges, but the prospects are not encouraging.
Unless you have tens of thousands of referrals, 5% commission is not enough to earn $57 per day.
Verdict: Legit, But Not Recommend
What I Recommend!
---
If you want to earn some extra cash with surveys, one of the best GPT sites is called Prizerebel.
I get referrals daily and make around $2 or $3 per day on auto-pilot just with this platform.
Now, if you are like me and are constantly craving time and location freedom, I suggest you check out my #1 recommendation.
I started from NOTHING and built a $1,000+ per month internet business thanks to this newbie-friendly step-by-step training developed by Kyle and Carson.
Thanks for checking out my Mingle Cash review. If you have any questions, feel free to ask in the comment section below.
All the best
Stefan