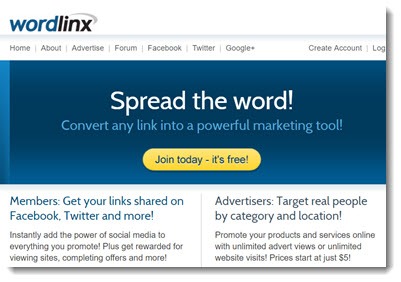 There are hundreds of legit websites where you can complete tasks that you never thought you could be rewarded for. The easiest of tasks is one that you merely have to click and view advertisements. That's the main idea behind all a paid-to-click (PTC) websites, including Wordlinx. But is Wordlinx a scam?
Well, given that lots of these PTC websites are entirely unsustainable and end up failing to pay its members, I decided to take a closer look. I'll also walk you through the main features of the website and give you my honest opinion.
If you want to make a substantial income online, something that can realistically replace your 9-5, why not jump straight to my #1 recommendation?
WordLinx Review
---
Product Name: WordLinx
Website: wordlinx.com
Price: Free
Business Type: Paid-to-Click
Score:

5/10
What is WordLinx
---
WordLinx is essentially a PTC (Pay-to-Click) platform where advertisers promote their products, and you get paid a small percentage for viewing their ads.  You can also make money by completing offers, taking surveys, downloading apps and referring other people to join.
Established in 2003, WordLinx is considered one of the oldest and most reliable PTC websites on the market.
Although it has been online for such a long time, I found the website not very user-friendly. Someone who is a complete newbie might find challenging to understand all the different features.
Pros and Cons
---
Pros
Strong reputation
Free to Join
Unlimited referrals
Available worldwide – no restrictions
Active forum
Cons
Extremely low-income potential
Very few ads per day
High cashout value ($10)
Minimum cashout requirement of $5. It's quite high for a PTC site.
Free members must view 2 adverts to make the price of 1
How does it work? 
---
After you create your account and log in, you will see this menu:

The option "Rewards" with show you all the main opportunities to make money on the website. So, let's talk about each one of them
Paid to Click – disappointing! 
This is where you find a list of ads. After you click on the ad, another window will open, and you just have to wait for the countdown (10-30 seconds).
If you are a free member, you have to wait for another ad and do the same thing before you get paid. So, in fact, you are viewing 2 ads and getting paid for 1. That's not good!
I already knew that these websites pay anything from $0.001 to $0.01 per view ad. Yeah, I know, it's nothing! But if at least I had a large number of 1-cent ads, maybe I could dream higher…
Ok, so I gave it a go, and to my surprise, I saw just 1 ad! Seriously?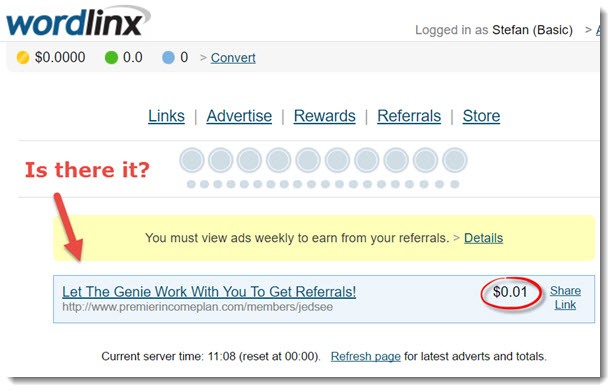 I usually find more than 20 ads in other PTC websites, so it is disappointing.
Not for me, as I just review those sites, but for all those who take their time to visit the platform and especially those who upgraded their accounts. Here is a comment from a frustrated member:

I will explain why there are so few ads compared to other sites later on. It's interesting!
Traffic Exchange – Nobody wants poor traffic
This is geared towards people who wish to advertise their own website or affiliate links. By viewing ads, people earn points that can be exchanged for promoting their own sites. For all memberships, 2 points give you 1 traffic ad credit.
I will never recommend traffic exchanges because it's always poor traffic that doesn't convert well. Organic traffic is always the best!
Surveys and Offers – Best option on the website but…
You will earn much more by taking surveys, completing offers and downloading apps. Although those tasks are time-consuming and tedious, it will be much quicker to increase your earnings within Wordlinx. One important thing is that if you don't want to advertise, run away from points based tasks, as you cannot exchange them for cash. 
To be honest, I don't recommend any of those options as I believe everyone has the potential to create decent online income with affiliate marketing.
Tell a friend – Not promising! 
You can refer (invite) people to Wordlinx and earn commission from their clicks, purchases and referral earnings (up to 5 levels). How do you do that? You send them your affiliate link containing your ID, and if they sign up through this link, they become your referral.
You can promote your link via social media, email, free traffic exchanges (EasyHits4U, Traffic Pods), your blog/website or anywhere that you can post a link.
If you have a website with a massive traffic, this is the best option, but not very profitable. Why? Because the commissions earned from your referrals are ridiculously low!
For free members, they offer 2% from referral clicks! 2% of 1 cent is nothing. That means that you need 100 active referrals to earn 2 cents per day. Even when you upgrade to the pro membership, the highest commission per referral click is 20%, but it costs $25/mo!
To make matters even worse, it is not that easy to find referrals, and when you finally do, most of them don't see the motivation to remain active. So, I think there is no point promoting something that has no significant value – something that will just waste people's time! Chances are you will waste your time too!
This is a complaint I found on the forum about this difficulty:

You can also earn commissions when your referrals upgrade their accounts. In that case, the payout is higher, but it is much more difficult to find someone interested in doing that.
I can say one positive thing about the referral system, though – There is no limit to the number of people you can refer, regardless of your membership. Many PTC websites set limits to encourage users to upgrade.
Link Exchanging – A new way to get rewarded
---
In October 2015, Wordlinx introduced a new way to pay its members called link exchanging! This is the first option in the menu, called "Links." It took me a while to understand how it works because the website doesn't explain the system. So here it goes!

You can choose a web address that can be a normal URL or an affiliate link. For this example, I've decided to use my affiliate link from Clixten, which is another legit PTC website. I chose the category named "business and money" and clicked "create."
A short link was created as you can see below:

What for?
Well, you can share this link the same way as do with an affiliate link. There is even the option to easily share this link via Facebook, Tweeter, and Google plus. The difference is that every time someone clicks it, you earn shared points and a chance to get more referrals for Wordlinx.
How? 
This link that I showed you leads to Clixten's website with Wordlinx's logo and your affiliate link on the top of the page.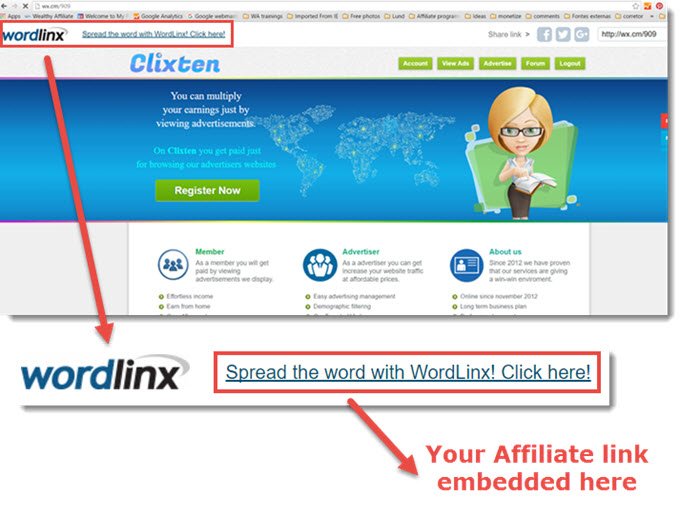 So, when someone clicks on "Spread the word with WordLinx!" and signs up, they become your referral at WordLinx. If the person decides to join Clixten, he or she becomes your referral at Clixten as well. It's like having 2 affiliate links in one!
They give you 0.1, 0.2 and 0.5 shared points per click for the Basic, Verified, and Pro membership respectively. As the system is not fully implemented yet, you can accumulate those points but not exchange for ads or cash at the moment.
What if you upgraded your membership to earn more? 
---
There are currently 3 memberships:
Basic – free
Verified – $17 p/a

or 

$79 life
Pro – $25 p/m

or 

$99 p/a
Paid memberships will definitely increase your referral commissions and points. It will also remove the unpaid adverts shown before paid ones. However, my advice is that you don't upgrade unless you have hundreds or thousands of active referrals! 
Let's say you pay the life verified membership ($79). Gosh, how long would you take to save $79, earning 1 cent a day? hmm… 21 years?!
Why are there so few ads compared to other sites
---
Simply because there are not many advertisers paying for ads and because WordLinks doesn't follow the "Bux" model. "Bux" websites show ads (with affiliate links) sponsored by the website itself, not by external advertisers.
So, every time someone clicks on such ads, the website pays members from its own pockets and hopes that they will join through their affiliate links so they make commissions. This system has proven itself to be unsustainable, and that's probably the main reason why WordLinx has had such a long life. All ads within WorldLinx are sponsored by external advertisers,
Cashing out
---
In order to cash out for the first time, you must earn at least $10. From that amount, $5 must be earned by viewing ads yourself – not by completing survey/offers and neither from referrals.
This last requirement is the cause of lots of complaints that you can find in the forum. Take a look at this thread:
(midwestcore) I have invested over 150.00 into my wordlinx business and yet i can not withdraw 20 bucks because it says I have to first earn 5 dollars from clicking before i can withdraw. why is this? I am afraid to promote because a lot of people on my list will be mad at me if they invest and then they can't withdraw. I only get a few pennies a day even though i am in the highest upgrade possible.
Indeed, earning $5 worth of ads will probably take one year, can you imagine that?
After the first withdrawal, this $5 requirement drops to $0.50.
You can only cash out via Paypal with a 5% fee for values under $100 and 2% for cashouts higher than $100. For those who have 500 points, the cashout under $100 is free of charge.
Conclusion – Is WordLinx scam?
---
I have no doubt WordLinx has a good reputation. It is a legitimate website that has been paying members for over 12 years now!
In summary, the website has a very low-income potential, meaning that it is extremely hard to cash out. The referral system is considered the best strategy for making more money with PTC sites, but the commissions from referrals clicks are also very low, and it is hard to find loyal referrals.
Many people think that upgrading their accounts is the best solution, but unless you have at least 100 active referrals, it is a hopeless case.
In my honest opinion, not only WordLinx but all Paid-to-Click websites are not worth the time and effort. The possibility to make decent money is very slim, and even if you had a high traffic website, you'd be better off promoting another more profitable affiliate program.
What Now?
---
If you want to make significant money online, I highly recommend that you build a website and become an affiliate marketer.  In this day and age, you can build a fully functional and stunning website in less than a minute!
Ok, you need to install a few essential plugins, know how to organize the menu, categories… but what I am saying is that it's not as complicated and time-consuming as before.
I cannot say that making money with your website will be a quick and easy process, though… it requires persistence and hard work! Have you heard quote before?
Nothing that is worth having in this world comes easy.
When it comes to making money online, there are many traps and misinformation out there. Therefore, it is vital that you have solid step-by-step training in affiliate marketing and decent support. 
That's why I always recommend Wealthy Affiliate to all my readers. They are currently offering an excellent free membership that will put you on the right track to succeed.
That's the end of this review, thanks for reading! I hope I was able to help you understand better this platform. If you want, leave your questions or thoughts, leave in the box below. I would love to hear from you!
Your Friend
Stefan