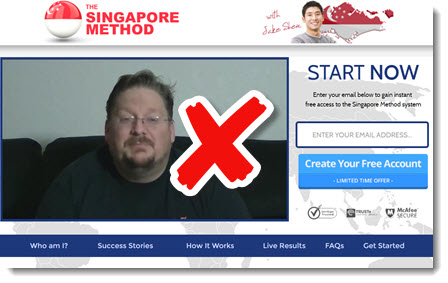 The Singapore Method promises to give you a free software that will earn you hundreds of thousands of dollars in the next 30 days.
What are their true intentions behind this website? Is it really possible to make so much money for doing absolutely nothing? Is it a SCAM? Check my review and find out the truth!
The Singapore Method Review
---
Product Name: The Singapore Method
Website: www.singaporemethod.net
Price: $250 (minimum)
Money Making Strategy: Binary Options
Recommended?

NO
Score:

0 out of 10
What is The Singapore Method
The promotional video doesn't explain what the method is all about. All this guy called Jake Shen (fake name) keeps saying is that you will become a millionaire in no time.
Now, if you scroll down the page you will see the FAQ, which says that The Singapore Method is a software that places winning trades in binary options.
Binary options is a very risky strategy where you basically bet in the financial market. You need to guess if the price of an asset (currency pairs, commodities, stocks, indices) will go up or down and place the trade. If you are correct, you win 70-80%, but if you are wrong, you can lose 100% of your investment.
Can you see the big disadvantage you are in?
Many Clones! 
The Singapore Method is also promoted in different names and websites. One of them is The Oxford Method, which I reviewed a while ago, but they also have:
The Aussie Method, The Cambridge Method, The Irish Method, The Canuck Method and probably many others.
All the same Bla Bla Bla designed to suck your wallet dry!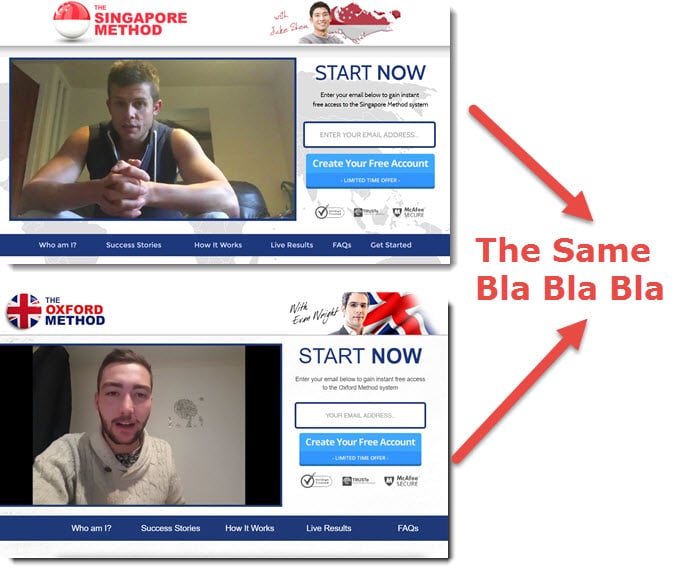 This reward platform is going viral! Cash out via PayPal, Visa, Gift Cards, and in-game currencies - Click here to find out how to generate an extra $10+ per day! 
How Does it Work? 
I have already reviewed many websites promoting binary options, and they all say that a software or strategy will increase winning rates. Don't believe in these claims! No software can predict the market with any level of precision. 
They say the system is 100% free but that is a LIE. You will be required to make a deposit of $250 for their recommended broker platform – Titan Trade at the moment.
After you sign up, you will land directly on the Broker's platform where you have to create another account! Heck!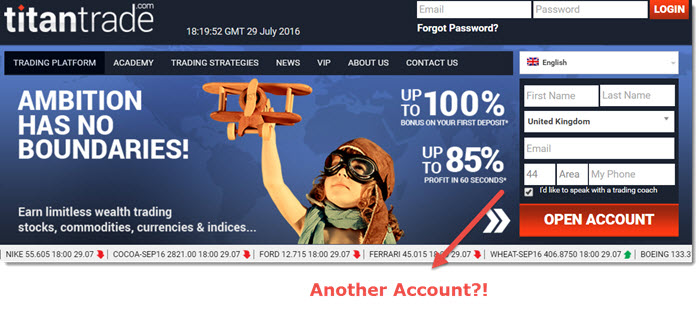 The thing is, you think they will give you a software that will place winning trades, but that is also a big LIE! After you create the account you won't see any software. You were deceived!
Next, you will have to deposit $250 to start trading. After that, your money will be thrown into the lion's den – one of the riskiest systems on the internet. Please, don't do that!
Very few people manage to make some money with binary options. It's really like dealing with a casino – You know some people win, but they will most certainly lose in the long term. The odds are strongly against you.
$10.000 If You Don't Make it? 
Jake Shen is promising to give you $10,000 in case you fail to become a millionaire with his system. Not even in your wildest dreams! The website doesn't mention this "promise" in the terms of service, so this will never happen.
By the way, in the terms of service, you will see that the website doesn't guarantee that you will earn anything!  Check out the following statement:


All They Want is a Big Fat Commission! 
These binary options affiliates love to say that their system is completely free! Anyway, they are rich, so they just want to make the world a better place. WRONG!
The internet is flooded with deceptive binary options promoters. Similar websites like Smart Profits, Instant Income App, and Market Buster are only there so steal your money.
The so-called "system" is not worth a single penny because it doesn't work. It's just a bait! In reality, they want you to deposit $250 because the broker will pay them a big fat commission.
Brokers offer one of the highest affiliate commissions out there, and it's not difficult to understand why. They have a high chance of grabbing your $250 and give you nothing in return. It's an extremely lucrative business for them!
Conclusion – Is The Singapore Method Scam or Legit?
You should stay well away from The Singapore Method and any other method involving a "free" binary options software. Don't even give your phone number to them, otherwise, you may get constant and annoying calls from their marketing team. In my opinion, this is another scam! 
I always recommend people to try affiliate marketing as this is a safe and efficient method to make money online. You can create an online business dedicated to your passion and literally earn enough to finally quit your job.
However, I need to be 100% honest with you up front. It's not an easy task, and that's why there is a great training platform that I use on a daily basis to achieve my goals. You can take advantage of their free trial the same way as I did… Additionally, you can read my complete review by clicking on the link below.
So, what do you think about The Singapore Method?  Please leave your thoughts below along with any question you might have.
Your friend
Stefan