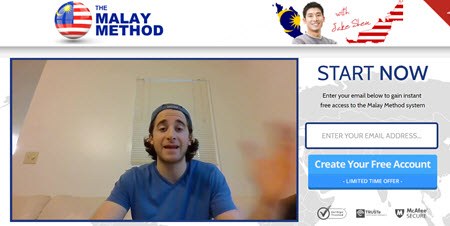 The Malay Method promises to turn your $300 into $800-$1000 on a daily basis. All you need to do is fund your account with at least $250, sit back, and watch your bank account get gibber and bigger! Is The Malay Method a Scam or Legit? 
Learn everything you need to know within my review.
Click here and check out a legit platform that gave me the proper education and support to reach $500/month and growing… it's free to try!
The Malay Method Review
---
Product Name: The Malay Method
Website: www.malaymethod.com
Price: $250 (minimum deposit)
Strategy: Binary Options
Owner: Unkown (it's not Jake!)
Score:

0/10
What's The Malay Method?
---
 The Malay Method is a binary options software that is supposed to predict the financial markets and generate winning trades.
There are various clones of the Malay Method on the internet, such as The Brit Method, The Singapore Method, The Oxford Method, The Canuck Method, to name just a few. They have the same layout, the same video testimonials, the same false promises.
Avoid Binary Options 
---
Binary Options is a dangerous type of trading where brokers have an unfair advantage against the traders. They know that it's impossible to predict the movement of asset prices correctly within just a few minutes. Therefore, binary options is just a gambling game for most people!
It's possible to make $800 in a day after investing $300. That's because you will earn over 75% ROI if you make a correct guess. However, there is a high chance you will lose this money because a wrong guess will cost all your investment. Yes, the broker will keep all your money if you make a wrong guess.
The Software is a Farse!
---
The Malay Method is one among probably thousands of scam auto-traders that are created every year. All of them promise huge profits while reducing the risks significantly. But the truth is that no software can guarantee high winning rates, simply because they can't predict the future! 
Here is the proof that you can find in the Terms and Conditions:

This reward platform is going viral! Cash out via PayPal, Visa, Gift Cards, and in-game currencies - Click here to find out how to generate an extra $10+ per day! 

Once you activate the software, it will place random trades, and you will star losing money. You will certainly win some trades, but that's just pure luck.
In time, you will see that a few winning trades can't beat the big edge imposed by the broker. And all your investment will vanish in a few hours.
Fake Ownership and Fake Testimonials
---
Here you can see Jake Shen, the supposed creator of the software: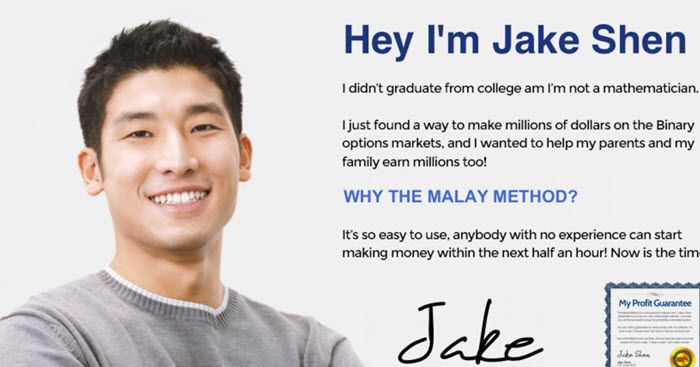 Now, when you visit the other clone sites, you can see they are using different faces, but the layouts and phrases are just "copy and paste"!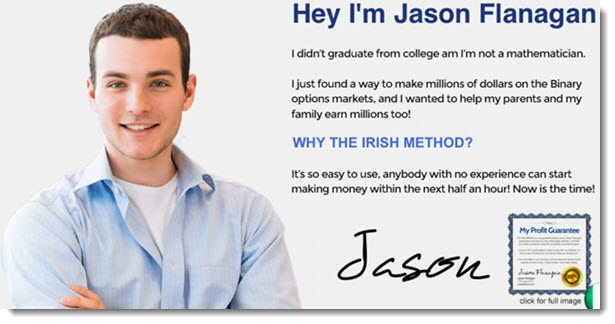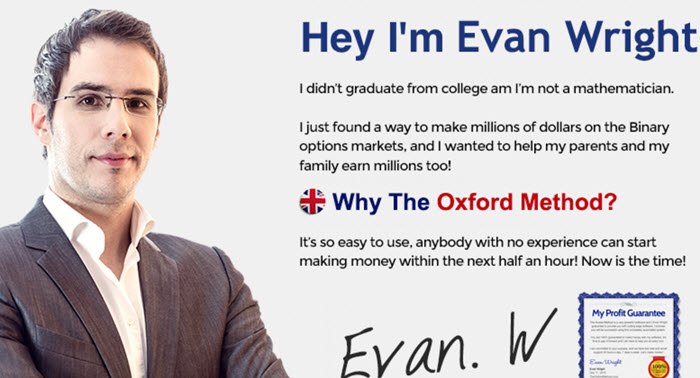 Just like Evan from the Oxford Method and Jason from the Irish Method, Jake is just a stock image purchased from a platform like shutterstock.com.
If the owners are fake, I don't even need to mention about all the testimonials.

The Software is Free! How Are They Making Money Then?
---
Yep, the software is free, but the owner is making lots of money! The software is just a bait to drag you into this money sucking machine.
Once you make the $250 deposit, the broker will pay a big commission to the owner of the Malay method website – the affiliate. Sometimes more than $100 per person!
It's a fraudulent system where the only ones making big cash are the brokers and the affiliates.
Conclusion
---
Stay away from The Malay Method or any other platform that promises lots of money with 1 click. They are all SCAMS!
Verdict:
Scam
A Safe Strategy to Make Money Online
If you are serious about making money online, I encourage you to read about my #1 recommendation. It's an educational platform that will teach you a safe and proven strategy to make a full-time income online.
It takes time and effort, but that's the only reliable method that can give you the freedom you are looking for. It's working for me, as I'm currently making $500/month in passive income!
By the way, it's free to test drive (no credit card required), so you have nothing to lose! Just read my honest review below and decide if it's for you or not.
Thanks for reading! I hope this review will help you make an informed decision. If you have any questions, just drop me a message below. I'm all ears! 🙂