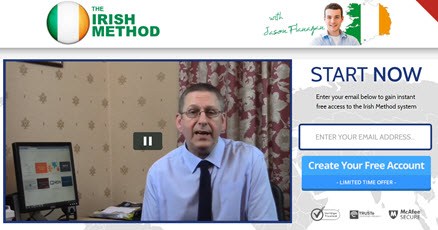 I am sure you know that the internet is a playground for scammers. They can do whatever they want as there are not enough law enforcement to combat their deceitful practices.
In this review, I would like to talk about a website that promises hundreds of thousands of dollars per month for doing absolutely nothing. What's more intriguing is the information that the software is completely free! So, is The Irish Method a Scam?
Check out my honest review and discover a serious strategy to make a reliable income online.
The Irish Method Review
---
Product Name: The Irish Method
Website: irishmethod.com

Price: $250 (minimum deposit)

Recommended?

No

Score:

0/10
Discover a Serious Strategy to Make Money Online 
Read My #1 Recommendation Review

---
What is the Irish Method?
The Irish Method is a website operated by the same owners of The Oxford Method, The Aussie Method, The Canuck Method, The Singapore Method and many others "methods". These websites are replicas of each other and offer the same unrealistic opportunity.
The website gives you a software that supposedly generates winning trades in binary options, allowing huge returns on investment. For example, if you invest $300, they are saying that you can expect to net $800-$1000 on a daily basis, which is 333% ROI. That's insane!
Although the software is said to be "free", you still have to fund the broker's account with at least $250. But come one, $250 for a guaranteed method to become a multi-millionaire is the best deal you can possibly get, right?
Well, not really… The reality is that the software is useless, and you will quickly lose all your initial deposit. So, please, bear with me as I'll explain how this dodgy this system works.
Fake Testimonials and Fake Ownership
Trust me, everyone you see on the website is either an actor following a script or a stock photo model. Take, for example, Jason Flanagan, the guy behind this website.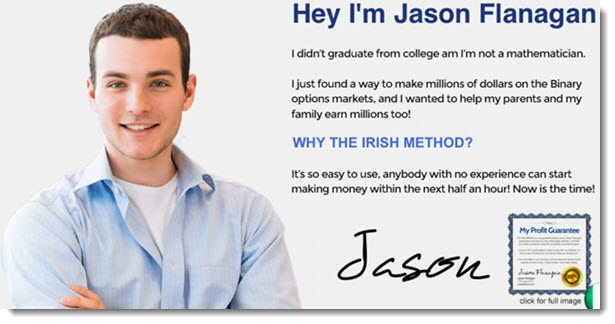 Now, you can see that the same smiley face has at least 2 other names on The Aussie Method and The Brit method.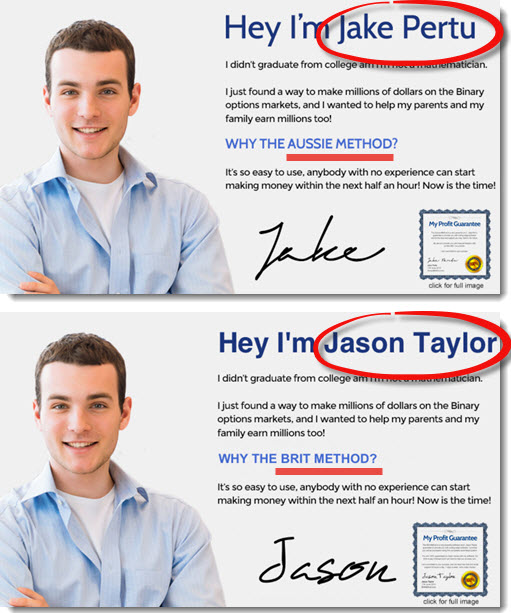 By now you should have something clear in your mind: These people created a website for their own benefit, at the expense of your hard earned money.
A System Designed to Make You Fail
When you go to a casino, you probably know that the house has an edge against you. It was designed to profit from you in long term. You may be lucky every now and then, but the longer you stick to it, the higher your chances to lose everything!
The same thing is happening in binary options. The broker, which is the platform where you bet/trade on the financial markets, has a HUGE edge against you. So if you trade without any serious strategy and knowledge behind, you are in serious trouble.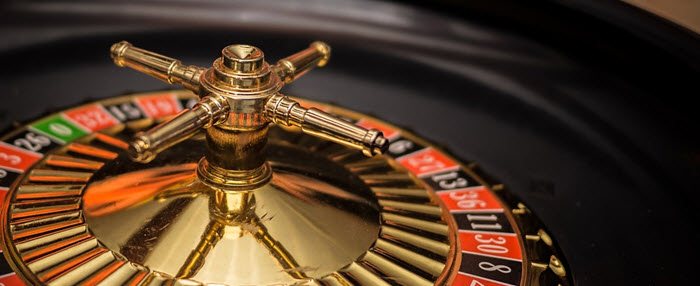 So, how does it work?
In a manual trading, you have to decide if the price of commodities, currencies and stocks will go up or down after a short time frame. You decide how much you want to trade and hope for the best. If you are correct, you normally win from 70 to 85%. But if you are wrong, the broker pockets 100%, except for some exceptions.
Considering the financial market is highly unstable, even highly experienced traders face significant risk when trading in binary options. Because brokers only make money when you lose money, the system is specially designed to make you fail.
There is No Magic Software!
There are too many websites claiming to have developed a software that will predict the markets and provide winning signals.
When you make a deposit, the owner of The Irish Method will earn more than $100 in commissions from the Broker. This is free money for them, and a big risk for you. That's why they are lying to you! 
You need to understand that in order to predict precisely the financial markets, you need to be able to predict the future, which is impossible. What happens is that people will activate the software and lose all their money.
If you check out their terms and conditions, they clearly state that there are no guarantees.

So, after you lose your money and try to get it back, they will certainly rub it in your face. Nice people huh?
In addition to the high risk, you may also face headaches when trying to withdraw your money. In general, Brokers are specialists in making the process extremely hard, if not impossible. As most of them are located in unregulated countries, they can easily disappear with your balance account without providing any explanation.
Conclusion
You should stay away from the Irish Method or any other software that promises huge profits in a short period of time.
Binary Options is a legitimate strategy to make money online, but it's extremely risky. You can never rely on it to put food on the table. At the end of the day, the brokers are always the big winners!
Verdict: Not Recommended
A Serious Method to Make Money Online
There are more and more people earning a living online. This is indeed a reality for many people around the world who know the right strategy and take consistent action to achieve their income goals.
The first thing you need to understand is that there are no shortcuts. You need to work hard and don't be afraid of failing… Once you know how to get there, you will get there if you have enough motivation.
I would like to share with you an online business platform that will help you make real money online. Don't worry if you're a complete newbie as the training starts from the very basic.
I started from zero as well!
Rest assured the step by step video lessons will put you on the right track, and whenever you feel stuck, there will always be someone willing to help at any time. The community is very active 24/7!
You can't go in the wrong direction by following this course and interacting with lots of successful online entrepreneurs on a daily basis.
What's awesome is that you can take advantage of the first 10 lessons and build the foundation of your online business completely for free. So, you have nothing to lose in case it doesn't appeal to you. But I am confident it will… 🙂
So, click on the link below if you want to know more about this great training platform.
>> Check Out My #1 Recommendation Review
I hope this post was eye-opening to you. If you have any question or need any help, please don't hesitate to leave me a message below.
Your Friend
Stefan