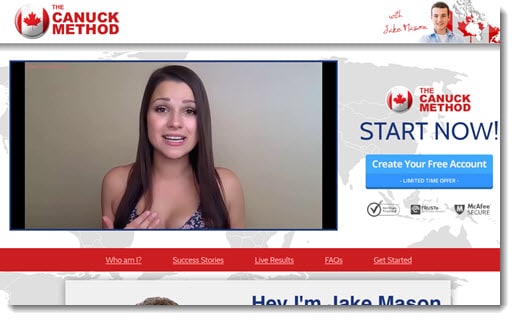 The Canuck Method promises to make you a millionaire in just a few weeks without any effort.  I know this looks like a fairy tale, and I am sure deep inside you don't believe in a single word this guy called Jake Mason is saying.  So, is the Canuck Method a scam?
Don't invest your money before you read this review.
For a realistic strategy to make $10,000+ per month online without high-risk trading, check out my #1 recommendation.
The Canuck Method Review
---
Product Name: The Canuck Method
Website: www.canuck-method.net
Price: $250 (minimum)
Money Making Strategy: Binary Options
Score:

0 out of 10
First of All, Who is Jake Mason? 
---
What if I told you Jake Mason has at least 2 faces and 3 different names? Let me show you because pictures are worth a thousand words!
Do you recognize this Jake Mason? Yes, this is the one on the Canuck Method website.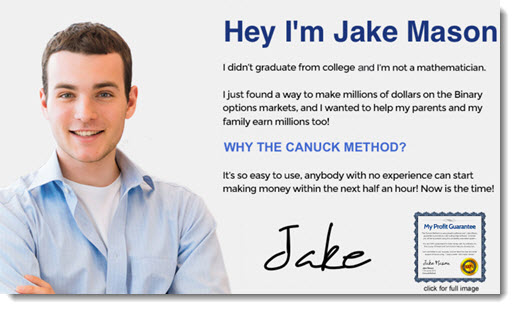 Next, you can see his other face, featuring at another website called The Kiwi Method (kiwimethod.com).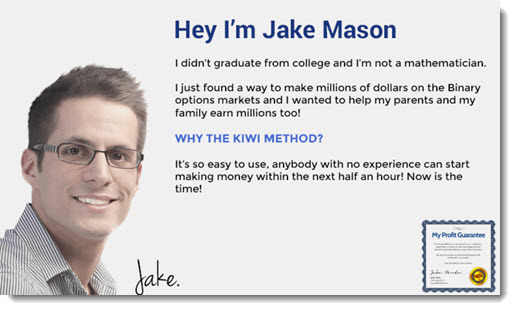 Did you notice the same text and layout? That is because both websites are cheap copies. But that is not all!
Surprisingly, there are MANY other clone site using the same layout and the same video testimonials. The Oxford Method,  The Singapore Method, the Cambridge Method, The Aussie Method and The Brit Method are just a few examples.
Guess what? I have found the same picture of "Jason" featuring on The Brit Method (brmethodprofit.com) and the Aussie Method (ausmethod.com), but with different names!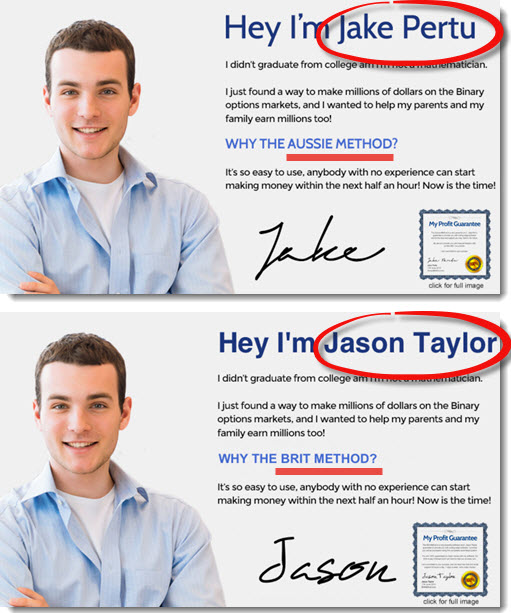 So the owner of all these websites is hiding behind stock photos purchased on the internet. His strategy was to use multiple sites to deceive the highest number of people as possible. Well, it seems to be working.
Also, all the people giving video testimonials are actors hired from a freelance platform called Fiverr.
What Exactly is The Canuck Method? 
---
The Canuck Method is a website offering a free software that will place automatic trades in binary options. Yes, that is true, but it's essentially a website promoting the Binary Options Platform (Broker) called TR Binary Options.
Binary options is a very risky kind of trading where you are betting on the results of the financial markets. You choose an asset (currency pair, commodity, stocks or indices), an expiry time and the money you want to trade.
High Risk!
---
Next, you decide if the price of this asset will go up down. If you are correct you earn 70-80%, but if you are wrong you lose 100%. As a result of such a disparity, you have a high chance of leaving this game with empty pockets.
They don't tell you about this high risk, of course. All they say is that the software will place winning trades on autopilot.
Not a Cristal Ball
---
The problem is, no software is capable of predicting the movement of the financial market. Algorithms can analyze past results and make a prediction based on what's gone. However, future results are always based on future events in the economy and politics. So no one has a crystal ball to predict such future events.
Is it Really Free?
---
The software is free, but you have to make a deposit of at least $250 in the broker's account. By the time you activate the automatic trading, your money is at serious risk!
The software is free because it doesn't work! It's just a dirty marketing strategy to make you transfer money to the broker's account. You will basically gamble with your money.
Your Guarantees
If you watched the video, you saw this:

But if you go to the Disclaimer, located at the bottom of the page, you will see there are no guarantees. Check this snippet from the Disclaimer:
Results vary, and as with any money-making opportunity, you could make more or less. Success in ANY money-making opportunity is a result of hard work, time and a variety of other factors. No express or implied guarantees of income are made by CanuckMethod.

We are aware that some buyers will not achieve their personal goals despite our best efforts to the contrary, and we stand by our refund policy as such. Please forward your receipt number (given to you when you ordered) to us and we will action your refund request as quickly as possible, typically within 24 hours.
After so many lies, do you think you will get a refund when you realize you lost all your investment instead of becoming a millionaire? I don't think so…
And what about the promise of paying you $10,000 from his own pocket? The Disclaimer doesn't say anything about it, so you will never see this money. He is lying to you once again!
Is The Broker Regulated?
---
If you really want to trade in Binary Options, the first thing you should investigate is if the broker is regulated by CySEC, AMF, FCA, etc. There are many fraudulent brokers out there, and you don't want to take additional risk.
As I already said, the broker behind The Canuck Method is TR Binary Options, which is not yet regulated. Therefore, this is another good reason to avoid The Canuck Method at all costs!
Conclusion 
---
You should avoid the Canuck Method at all costs. They say this opportunity is free, but it's the same as getting free entrance to a casino and betting $250. The only difference it's that binary options is riskier than casino bets.
My TOP Recommendation to Make Money Online
---
There are many ways to make money online, some of them are extremely risky, and others will pay very little for your time and effort.
So, instead of speculating with your money, I recommend you get proper training and create an online business that has the potential to earn you $1,000's or 10,000's per month!
If you are interested in building your own online business, check out my #1 recommendation and get excellent training and support.
You don't need to have any experience as the training starts from the very basics. By the way, you can test drive the platform completely for free!
>> CLICK HERE and Read My #1 Recommendation Review
Thanks for reading, if you have any questions or thoughts, please leave your comments below. Remember, my missions to help you make honest money online!