The first time I stumbled across a paid-to-click website and realized I had to view more than 10-20 ads just to make $0.01, I was shocked! Is Scarlet Clicks a Scam then?
Well, If you already checked the payout for each viewed ad on PTC platforms like Scarlet Clicks, Clixten, and Neobux, you know that making good money with this method is impossible! However, there are a few people who make good revenue by referring other people.
By the way, if you are serious about making money online, check out my #1 recommendation and discover a proven method that earns me over $900 per month.
Scarlet Clicks Review
---
Name: Scarlet Clicks
Website: www.scarlet-clicks.info
Price: Free
Business Type: PTC (Paid-to-Click)
[yasr_overall_rating size="medium"] Score:

2.5

/5
What is Scarlet Clicks?
---
Scarlet Clicks is a paid-to-click (PTC) website that has been running since 2009. As the name suggests, it pays for clicking and viewing advertisements for some seconds. On the other hand, webmasters can pay to get traffic (visitors) for their websites/offers.
The difference between the money charged for traffic and the money paid for your clicks is the platforms' profit.
Is Scarlet Clicks a Scam?
Scarlet Clicks have a good reputation with its members so far. The majority of reviews and comments on the internet and its long-lasting existence suggests it is a legitimate site.
However, no one knows how long the platform is going to last, and therefore, there is always a risk involved if you decide to invest.
Pros and Cons
---
Pros
It is open for any citizen of any country.
Stable PTC.
Only $2 to cash out.
Unlimited direct referrals for any membership type.
Payment via Paypal.
Cons
Extreme low-income potential.
Not many ads available compared to other sites.
There is a forum available.
How Does it Work? 
---
Viewing Ads
After you create a free account, you will see all the available ads inside the "View Ads" located on the menu.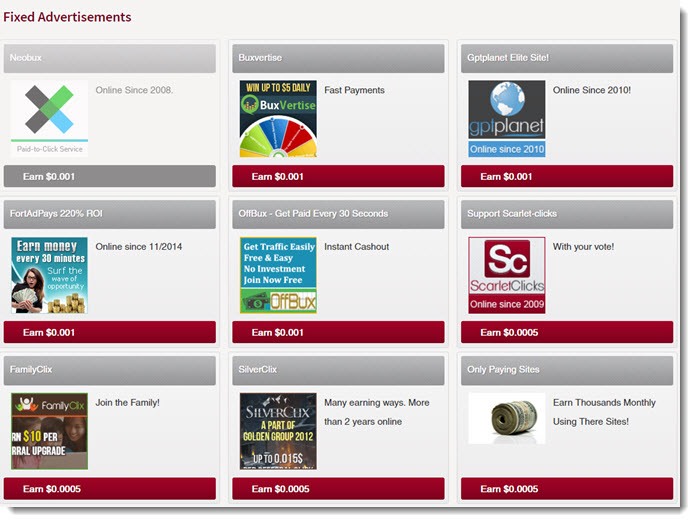 Clicking on one ad will take you to the advertiser's website with a loading bar at the top of the page. You just have to wait until the loading is finished and click on the upside down image. This is just a procedure to prevent cheating.
The money earned for each click is ridiculous. Well, I would never expect much from such an effortless task anyway. The highest value I saw was $0.001 and the lowest, $0.0002. The number of ads available is also disgraceful, so you should not expect to earn more than 2 cents in a day.
Such a low-income potential encourages the members to search for other alternatives, such as getting referrals. That's what I will be covering next.
Direct referrals for free
Direct referrals are people who accept an invitation from you and joins Scarlet Clicks via your unique affiliate link. When this happens, you will earn a percentage of all that your referral earns. That's a beautiful concept but it takes a long time to get many referrals if you don't have an established website. That's why I always recommend you to start an affiliate marketing online business.
Is it possible to make good money referring people to Scarlet Clicks? Possibly, but you gonna need hordes of people coming to your website. There are definitely much more profitable referrals programs to choose out there. My referral program is so much better, that I don't need insignificant commissions from any PTC website, so I am not affiliated with any of them!
Buying or renting referrals
As direct referring is quite difficult, most PTC websites offer the possibility to buy or rent referrals.
For some reason, the buying referral system at Scarlet Clicks is not working for a couple of months now. However, I want to explain how it works in case it becomes active again.
Direct referrals are more expensive, but they are yours for life. Rented referrals are cheaper as you normally have them for 30 days. The problem with investing money to get referrals is that you can lose money. 
Think about it, each referral will earn a maximum of 2 cents a day. Would you keep viewing ads every single day to earn $0.60 after 1 month?
I wouldn't… most people wouldn't. So, it is reasonable to expect a sharp decline in clicks day by day, making it extremely hard to get your investment back.
Rented referrals
PTC websites have been accused of using fake referrals (bots) to generate automated and random clicks.
If that is the case, the programming language behind certain paid-to-click websites as designed to earn you some money, but always less than what you invested.
Here is a snippet from the Advanced Bot System of PTCpay, a company which sells scripts for PTC websites:
What bots do is take it a step further. They allow the creation of automated (non-real) members who behave as real members do. Their behavior is controlled by adjusting their click percentages and other options which changes how they earn. There are two versions of the bots. One clicks ads as in the physical since. The other does not. This is due to many requests for both versions being made and the many different business models which exist. You get both versions with purchase and are then able to decide on how you would like to use them.

Source:http://www.ptcpay.com/addon-bots.php
We will never know if Scarlet Clicks uses bots, but I just want to warn you that if you buy referrals, you have no guarantee of profits.
Is it worth upgrading your account? 
In my opinion, no. Investing money every month to earn a few cents more per click will get you nowhere! Besides, any PTC can such down without warning. So, it's a risky investment.
Other Ways to Make Money
---
There is also the possibility to make money with paid to sign up offers  (PTSU) and to win prizes of up to $1 with the ScarletGrid.
In this last option, you have to choose and click on a little square of the grid, view more ads and hope to get the prize. It is hard to win, so you will give tons of free clicks for them. Not recommended!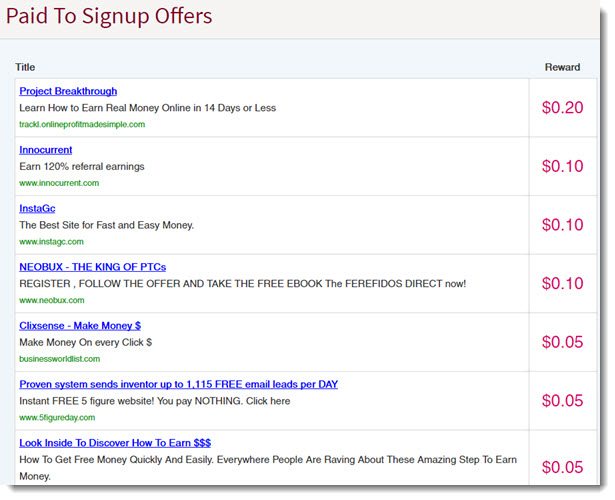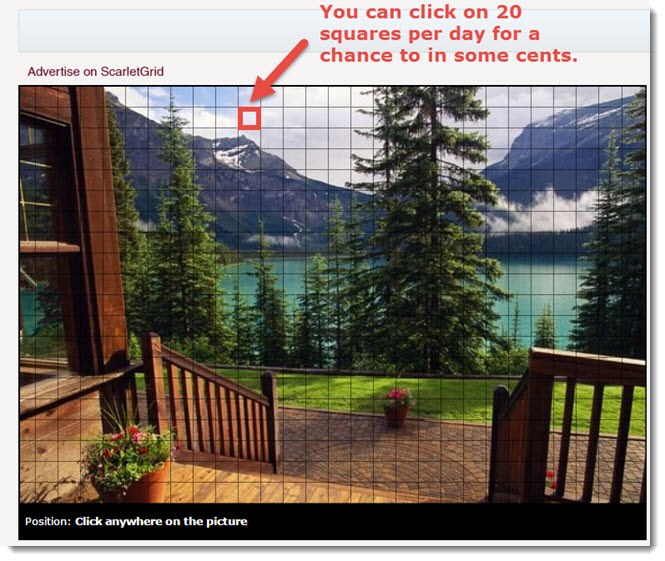 Cashing Out
---
To withdraw your cash, you have to reach a minimum of $2. They will pay you within 7 days either via Paypal or Payza.
Bottom Line
---
Scarlet Clicks is just like most PTCs out there. It pays less than 1 cent for each ad, with is discouraging.
In order to see a single dollar, you have to click all Ads every single day for almost 2 months, unless you start investing in referrals and upgrades. However, there is no guarantee you will get a return on your investment.
Verdict:

Not recommended! 
Thanks for dropping by my website and reading this article. I hope it was informative! If you have any questions, leave the comment box below. I am always here to help you!
Your Friend
Stefan