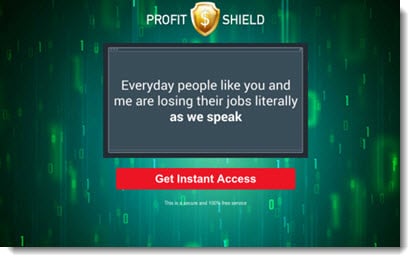 You came across a promo video talking about a powerful software capable of making over $6,000 per day. What's even more incredible is that it doesn't require any knowledge or effort, and it's completely free of charge!
It makes you wish so badly it was true, right? But is Profit Shield a legitimate opportunity, or just another blatant scam? Read my review and you will see what's the true color of this supposedly money making machine. 
Profit Shield Review
---
Product Name: Profit Shield
Website: profitshieldsystem.co
Price:

$250 (minimum deposit)

Money Making Strategy: Binary Options
Owner:

Anonymous

Recommended?

No, Stay Away! 
Score:

0 out of 10
Do You Want to Know How I Make Money Online Without Unnecessary Risks? 
First Things First – What is Binary Options? 
Binary options is a very risky kind of trading where you have to decide if the price of an asset will go up or down after some time. Assets include commodities, currency pairs, stocks, band indices.
There are different types of trading, but the Call/Put is the most common. Here, you have to decide if the price is going up (CALL) or down (PUT) the current price, how much you want to trade and the expiration time. If you are right, you win 70% – 85%, but if you are wrong you lose 100% or close to it.
This large advantage is how Brokers (trading firms) make millions at the expense of people's hard earned money. Besides, it's very risky because the financial market is so unpredictable!
What is Profit Shield? 
Profit Shield is a binary options trading software that will place trades automatically for you. They act as an affiliate of the brokerage firm.
All you have to do is fund your account with $250, activate the software and hope the money rolls in.
Check out this statement: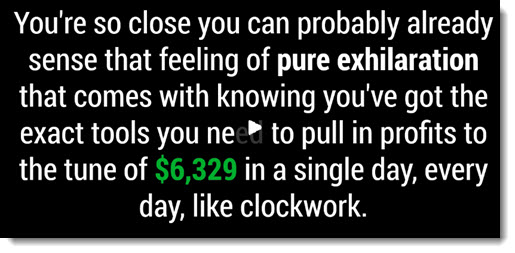 Well, they don't mention you can quickly lose $6,329+ in a single day because of the huge house edge. Even if you win a bit more than half the trades, you are still losing money.
Profit Shield uses the same deceptive tactic as Smart Profits, Instant Income App, Market Buster, Profit Shield and hundreds of others.

This reward platform is going viral! Cash out via PayPal, Visa, Gift Cards, and in-game currencies - Click here to find out how to generate an extra $10+ per day! 
Does it Really Work? 
In simple English, no, it doesn't work!
They are basically saying their software can predict the market with real-time datasets and information from the dark and semantic web.
Does it make any sense? They don't tell which datasets and which kind of information they gather from these unindexed web databases. It's like saying: "we gather information from somewhere and we don't want to tell you"
Can you imagine if there was really a software able to do that?
First of all, all brokers would go bankrupt, and second, the economy would collapse because of lack of workforce. Yes, the knowledge about such a miraculous software would spread the World at the speed of light and everyone would quit their jobs after earning $6000 in the first month.
Do you remember when the narrator said that Profit Shield is not a trading robot that makes trades at random? Let's suppose there is really an algorithm working behind the scenes. Well, it doesn't really matter because it won't predict the market with any level of accuracy. What matters is that the results will be random, and that's really dangerous!
Psychological Tactics
In addition to all the hype about the thousands of dollars you will make quickly and easily, these guys are using 2 other tactics to catch you out – Please don't fall for them!
The software is completely free – They make you believe this is an amazing opportunity, but most automated trading software is are given out for free. Why? Because affiliates such as Profit Shield earns a big fat commission from the broker every time you make a deposit. So they are making huge profits anyway, and the free software is just a bait.
There are very few positions available – They want you to act fast so that you don't think rationally or do proper research to find the truth. It's a lie, the more people in, the more money they will make.
No FAQ, No Demo Account, and No T&C! HECK!
What I found most disturbing about Profit Shield is that it locks any written information about the platform and trading in general. You will need to fund your account first.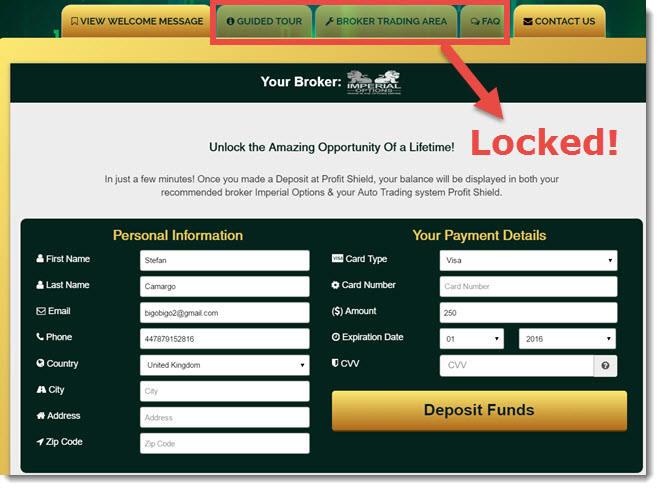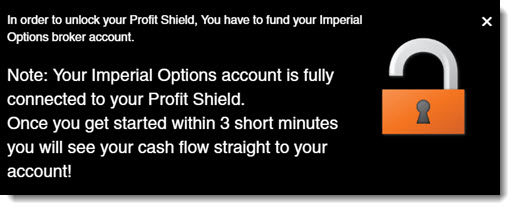 Different from many others automated trading platforms, it also doesn't provide any demo account. People are left completely in the dark when it comes to the risks of trading and how the software really works.
Conclusion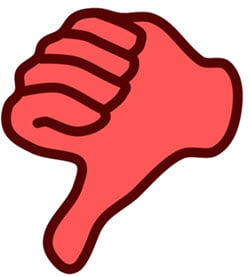 Binary Options is significantly risky and, therefore, it's not recommended to those that cannot afford to lose at least $250.
Profit Shield is a deceitful website because it doesn't warn people about the real risks. On the contrary, it just says you are guaranteed to make huge profits on autopilot. This is cannot be far from the truth, so in my opinion, Profit Shield is another fraudulent system. 
Verdict:

Not Recommended! 
Invest In Your Own Online Business
What's the point working for other people and losing your hard earned money for a brokerage firm? I cannot afford to lose $250 at this moment of my life, and I know you can't too!
But there is a wise alternative if you want to make good money online. To be honest, it's my favourite alternative as it offers a low risk and high potential. It's called Affiliate Marketing.
In affiliate marketing, you become a business owner from the moment you create your own website and starts promoting company's products and services. With a website, you are able to scale your business to a full-time income online and have amazing flexibility in your life.
It takes time and hard work, but the possibility to quit your job while still young can be a great motivational factor. I know many people who achieved their financial goals as affiliate marketers and now are reaping the benefits of working from home. It's definitely worth it!
Would you like to be able to work from home and become a successful affiliate marketer?
So, what do you think about binary options and this specific trading software? So you have any experience in trading? Feel free to leave your thoughts or questions in the box below.