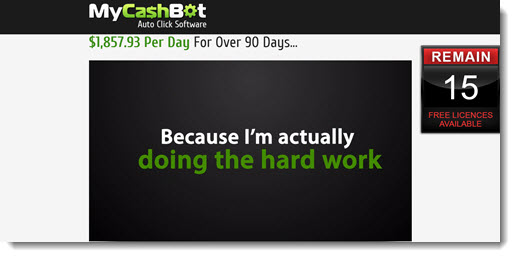 My Cash Bot owner wants you to believe lots of money without the hard work!
He is giving away 27 free licenses of a software that promises to make you very rich! Just to give you an idea, $3500 can be turned into $1.000.000 in only 84 days. So, Is My Cash Bot a Scam? Let's find out in this review!
Don't worry if the number of free licenses available is decreasing! Trust me. They will never end!
My Cash Bot Review
---
Product Name: My Cash Bot
Website: http://mycashbot.com
Business Type: Binary Options
Owner: Albert Glenn
Price: The software is free – but you have to invest a minimum of $250
Score: 0 out of 10
What is My Cash Bot? 
---
It is unbelievable how the presenter of the promotional video manages to speak for almost 20 minutes without even mentioning what this software is all about! My Cash Bot is another automated binary options software that supposedly generates enormous profits with NO risk involved! Is it really possible?
Binary Options?
In binary options, the trader just needs to decide if the price of an asset will go up or down during a specified period. The asset can be anything traded on the financial market, such as stocks, commodities, indices and currency pair.
There are only two possible outcomes, you win, or you lose. If you predict correctly, you earn a predefined amount ($100 for example). Otherwise, you don't receive anything and end up with a loss.
Although trading with binary options is very risky and feels like gambling to me, it is a legitimate way to earn money. However, there are many platforms and software that promise to reduce or even eliminates the risks. My Cash Bot is precisely one of them.
So here comes the important question!
Is My Cash Bot a Scam?
---
There is a high probability.
In any investment, the general rule is that the higher returns will always go hand in hand with higher levels of uncertainty (higher risk).
On the other hand, a low-risk investment will usually reflect in reduced profits. Either way, the risk will always be present, no matter what.
"In my opinion, the only risk free investment is when you invest your time and money in quality education and valuable skills."
But looking at My Cash Bot claims, we realize they go against this fundamental investing principle. They give you hopes of massive returns with ZERO risks.
Besides, the testimonial videos are all fake and outsourced in some marketplace platform like Fiverr.com.
How Does it Work?
---
If you fill up the form with your email and password, you will get to a page asking for your credit card details. So, you won't pay My Cash Bot but will have to deposit a minimum of $250 that will be directed to the recommended broker.
My Cash Bot is a platform that works as an affiliate of the brokerage firm. Every time you deposit funds, Glenn earns a massive commission from the broker.
The software will place the bets automatically for you. They say the percentage of winning trades is around 89.67%, which is apparently a lie.
Not only a lie, but this also contradicts the statement that there is ZERO risk involved. After all, a zero risk would mean 100% of winning trades.
If you want to see the reality about any binary options platform, just read their earning disclaimer (terms and conditions), usually available at the bottom of the page.
Here is an extract from My Cash Bot disclaimer:

I find it is particularly disturbing to see a completely different picture when compared to the sales page. It looks like a completely different product.
In the sales page, everything looks perfect. There is no risk and blah blah blah. However, according to the disclaimer, there are no guarantees.
They say success in ANY money-making opportunity depends on hard work! The earning potential depends on you, and this is not a get rich scheme! REALLY? Well well, if the system offers automated trading in binary options, how one should work hard to make it work? They have told the system doesn't require any involvement from the user! It just doesn't make sense.
Actually, it makes complete sense! It is designed to put all the responsibility of failure on yourself, and exempt them from anything they have said. 
Unrealistic Claims
---
The establishment of such a deceitful website is something really serious, but I just couldn't help but laugh at some statements.
"The money just keeps pouring in! I am so thrilled, I am a millionaire in exactly 84 days!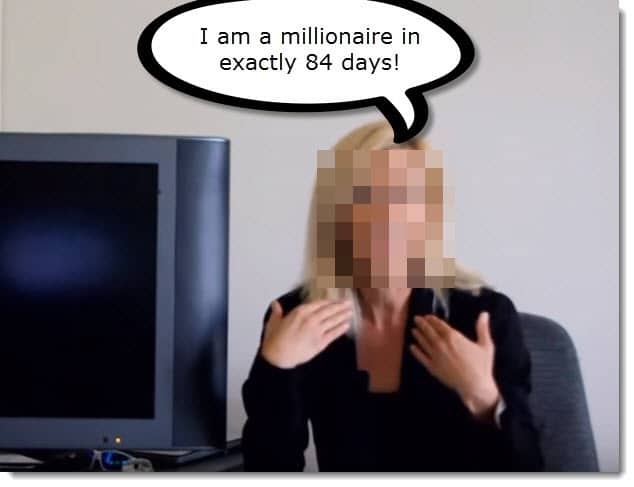 This lady claimed she invested $350 and earned 1185 in the next 3 hours. In the next seven days, she made $7575 AND 81 CENTS! Next week, she made $21.895 AND 53 CENTS. Note that the cents are really important!  84 days later and she was a millionaire! 
Come on! If $350 grew to 1 million in 84 days, I think she would be able to buy the planet earth by the end of the year.
"Honestly, I don't even know how the APP works. All I know is that it really works to earn me $1285, $2400 and even $5808 in a single day, much more than I can make in months!"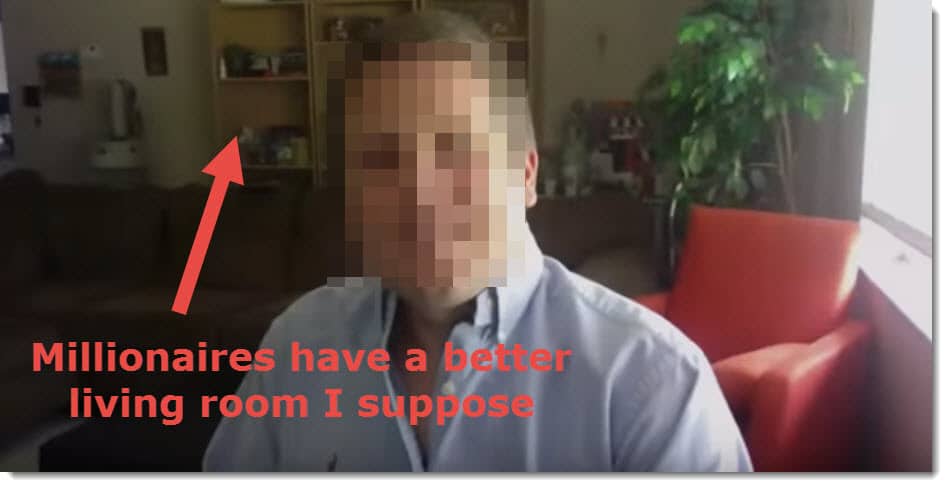 They never explain how this APP really works! Where are all this money coming from? What does this APP do to make so much money? Well, it is clear they don't want to provide information on binary options. The goal is to make you sign up as soon as possible.
"We don't let things happen by chance. My Team and I are strict professionals as a NASA scientist can be.
Fake Scarcity
---
Glenn wants you to act fast and this is an old and useful marketing tactic. He says only 27 people will be able to get free licenses of his software.
A countdown of licenses is displayed in the top right corner of the monitor, and they are being filled up really fast.
The naive and desperate for money will quickly proceed and deposit the money. After all, they are scared to lose this life-changing opportunity. But here is what I did: I opened the website on my laptop and after some time, on my tablet as well.
Check this out!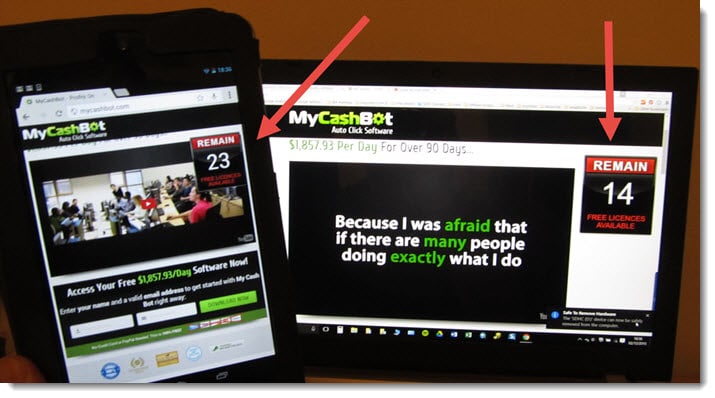 The countdown started all over again and the numbers simply didn't match! If you leave the website open for hours and hours, you will realize that the number of licenses will never reach zero.
Conclusion
---
You should not trust blindly that My Cash Bot is a miraculous software. I have never seen so much hype on one single website.
There are many websites trying to sell you the same dream with the same kind of binary trading software.
After reading so many allegations, I conclude that the risks involved are much higher than I imagined. Trading with binary options is extremely risky and giving money to a nonregistered broker makes matter even worse.
My advice to you is that you follow the SEC recommendation and stay away from My Cash Bot!
Verdict:

 Not Recommended
Invest Your Time in a Sustainable Online Business
---
I would never risk my money in binary options or other speculative investment. I just cannot afford to lose money at this stage of my life!
What I decide to do instead was to invest my time in my website. I know it will become a reliable source of income in the future. So, every time I arrive at work, I sit and start researching and writing topics like the one you are reading right now. This is a real online business I am creating from scratch, without risking any money.
How exactly does it work?  I make use of internet marketing, which is considered the most effective and sustainable way to earn money online.
Click Here to Read My TOP Recommendation Platform to Become a Successful Internet Marketer
Have you ever tried My Cash Bot or another binary options platform? What is your opinion about them? Please, leave your comments or questions below!
Your friend,
Stefan