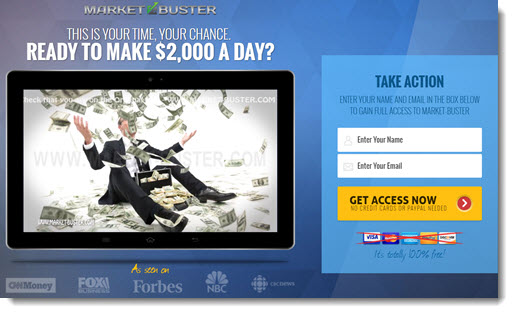 Ethan Tayler has created an app that is supposed to earn you $2000 a day on autopilot! He states that the app will detect the slightest fluctuations in the market so you have an incredible 84% winning rate. Not only that, the software is completely free to try for the first 6 months!
This sounds too good to be true, right? Is Market Buster a Scam? If you are thinking about depositing $250 for their trusted broker, read my review first and understand the serious risks involved.
Market Buster Review
---
Product Name: Market Buster
Website: market-buster.com
Price:

$250 (minimum deposit)

Money Making Strategy: Binary Options
Owner: 

Ethan Tayler

Recommended?

No
Score:

0 out of 10
What is Market Buster?
Market Buster is one among hundreds of binary options automated trading software. It's said to constantly analyze the markets and offer the most profitable trades.
Binary Options is a kind of trading where you have only 2 possible outcomes. Either you win or lose according to the movement of the financial market. You can trade on different assets such as commodities, currency pairs, stocks, and indices.
In a manual trade, you decide if the price of an asset (for example the price of the Euro against the Dollar) will go up or down. If you are correct, you win from 70-85%, and if you are wrong you lose all your investment or almost all of it. I bet Ethan didn't tell you this, right?
As you probably already know, the financial market is extremely unstable and impossible to predict with any level of certainty. That's where Market Buster comes in!
Does it Really Work?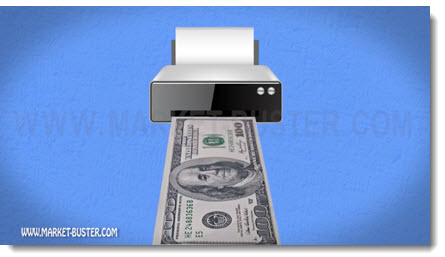 Ethan is claiming he developed an algorithm capable of analyzing the market and providing guaranteed success trades.
You don't need to have any knowledge in the financial market, you don't need to perform graph analysis or anything!  All you have to do is decide how much you want to trade and let the app make money for you.
PS. That's what they say on the sales page, but the Disclaimer tells a different story. I will explain later…
It would be so good if the app worked as promised! However, no one has ever created a software capable of predicting the financial market with any level of precision. If Market Buster could really increase your chances of winning, I am sure it wouldn't be free!
In fact, the Binary Brokers wouldn't even allow such software to be linked to their platform. Think about it! When you place a trade and lose, brokers will take all your money! When you win, you just earn 70-85%! The concept is similar to a casino game… the house (broker), will always have the edge over you. That's how they make huge profits!
A software generating more winning than losing trades will literally break the broker! So, the reality is these apps will never work!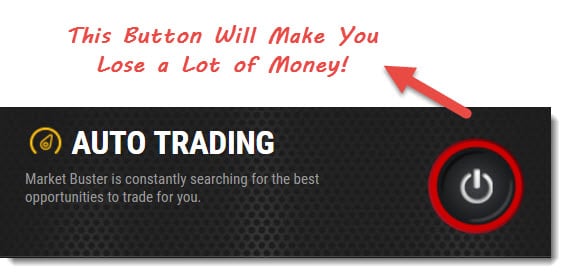 The App is Free! Why? 
Every time you make a deposit for the broker Optek, the owner of Market Buster is earning a good commission for referring you.
Optek pays affiliates from $100 to $450 for each new deposit – Check this out!

That's why they don't need to charge you for any software. The high ticket commission is enough.
viewed other options affiliates, such as The Oxford Method, Profit Shield, and Profit Booster. There are other thousands available on the internet!
If it were so profitable and low-risk, why would they even bother creating websites and promoting all this? They could well live a good life with their own money printing machines! 
Disclaimer – A Different Story
Now, I want you to check the Disclaimer at the end of the page. They will tell you many things that contradict the sales page. Here are some statements worth mentioning:
No express or implied guarantees of income are made by MarketBusterApp.

There is no guarantee that you will earn any money using the techniques and ideas in these materials.
No guarantees of income, ok! But what about the 83% guaranteed success rate?

What about this one?
Your level of success in attaining the results claimed in our materials depends on the time you devote to the program, ideas and techniques mentioned, your finances, knowledge and various skills. Since these factors differ according to individuals, we cannot guarantee your success or income level. Nor are we responsible for any of your actions.
But they said…


Heck! I thought I didn't need knowledge about the stock market, so now the results depend on many many things right?
Final Thoughts
I don't believe Market Buster is able to generate 83% of winning trades.
Yes, the more money you put in the system, the more money you can make. However, the chances to lose everything is much higher because the rules in places always give the edge to the broker.
Verdict:

Not Recommended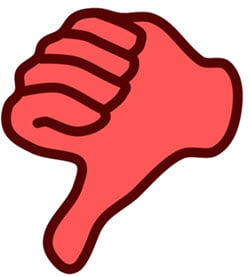 Invest in Your Own Online Business
Binary options can only be a good option if you can afford to lose more than you would like to earn. In my opinion, that's not the most sensible path to make money online.
An intelligent and reliable way is to build your own online business. The foundation of your business is your website and you can monetize it through different ways such as ppc advertising, affiliate marketing and product selling.
Many people get started with affiliate marketing because it's highly profitable and you don't need to develop your own product. You will earn commission by promoting products from well-known companies. Amazon offers one of the most popular affiliate programs.
You can create a website about anything and promote any product that is being sold online. This possibility allows you to choose a topic you're passionate about, help your audience through your articles (content creation), and make good profits.
So, not only you have the flexibility of being your own boss and work from home, you can also create a business around your passions, hobbies and interests. That's the beauty of affiliate marketing!
Yes, it is possible, but I highly encourage you to follow the most reliable training called Wealthy Affiliate.
Wealthy Affiliate is also a community of thousands of active members (including many successful online entrepreneurs) and the place where you develop your own websites. By the way, they have a free starter course that gets you started with your own free website! By the way, that's where I build My Room is My Office.
Thanks for reading, I hope this post was helpful to you. If you have any questions or thought, leave your comments below! 🙂
Your friend
Stefan