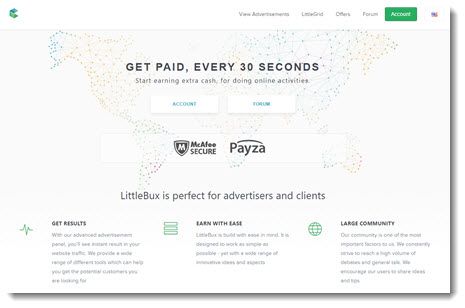 Paid-to-Click websites are proliferating like the plague these days. They imitate other successful platforms like Neobux, which is extremely popular and has a long-standing reputation on the internet. However, most of them fail before the 1-year mark, and what happens the website simply vanishes before you know it.
So, is Litte Bux a scam?
Let's find out!
For a reliable way to make money online, Click here and see my top rating platform! (over 10 years helping people to succeed online)
Little Bux Review
---
Product Name: Little Bux
Website: www.littlebux.com
Price: Free
Business Type: Paid-to-Click
LittleBux is now closed! 
What is Little Bux?
---
Little Bux is a paid-to-click (PTC) platform that connects advertisers with potential customers (you). Simply put, they charge for displaying ads, pays a small percentage for each click, and pockets the rest.
Little Bux was created in August 2015 and had a rapid growth during the first months, achieving a remarkable figure of 26.000 active members during the first 3 months.
How it Works?
---
Advertisers want to increase traffic (visitors) to their websites to increase sales, so they pay the platform to show ads for all its members. When members click and view the advertising, they and earn a small percentage of that price.
As you can see, members are not viewing ads because the website is offering information or entertainment, as in the case of blogs, for example. They are viewing ads only with the intention to get paid. Therefore, most of them don't care about what's being advertised.
Let's see how it works in practice…
After you sign up for free and log in to your account, you can get access to the ads by clicking on "view advertisements" icon, right at the top of the page.

This is the list of ads you will see: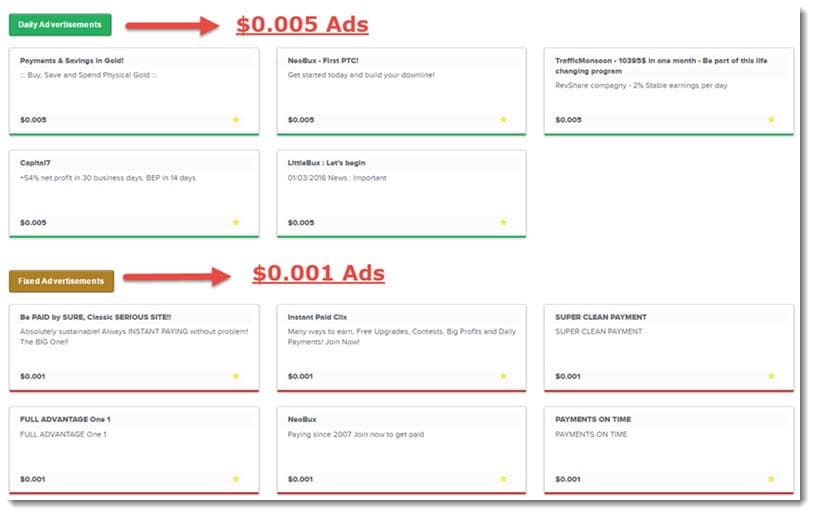 After you click on the ad, you will have to stay on the advertiser's website until the bar at the bottom of the page is completely loaded. Normally, it takes from 3 to 30 seconds.
They will pay you anywhere from $0.001 to $0.005 per click for standard (free) members. The payout is ridiculous, I know…and you should not expect to earn more than $0.20 a day by viewing ads alone.
Renting or selling referrals
Referrals are members just like you. Well, at least in theory… PTC websites offer the chance to refer other people and earn commissions from what THEY earn.
So, if you have 1000 referrals clicking on 1 ad – average ($0.005) per day, you should expect to earn $5 per day. Correct? I'm afraid not…
Unfortunately, most of your referrals become inactive simply because they fed up with wasting time for so little.
Although you can get referrals for free, promoting your affiliate link is hard, especially if you are not an internet marketer. Therefore, most PTC websites take advantage of this difficulty and entice you to buy or rent referrals.
The problem is that many PTC sites use bots instead of human referrals. So, you think there are people clicking on the ads when in reality, it is just a computer program clicking automatically to make you lose part of your investment.
We will never know if Little Bux uses bots, but I am just warning about the possibility.
Expensive memberships
They give advantages to paid members such as a higher click payout, a higher limit on the number of rented referrals, more guaranteed advertisements, among others. You should stay away from such memberships, especially in new and untrusted PTC sites. It is a very risky investment! Because:
What you earn with clicks and referrals might not be enough to cover your investment.
The website can stop paying and shut down – a common situation in this business.
You can find 3 paid memberships in Little Bux: Golden, Ruby, and Ultimate. This the table with some of the different features: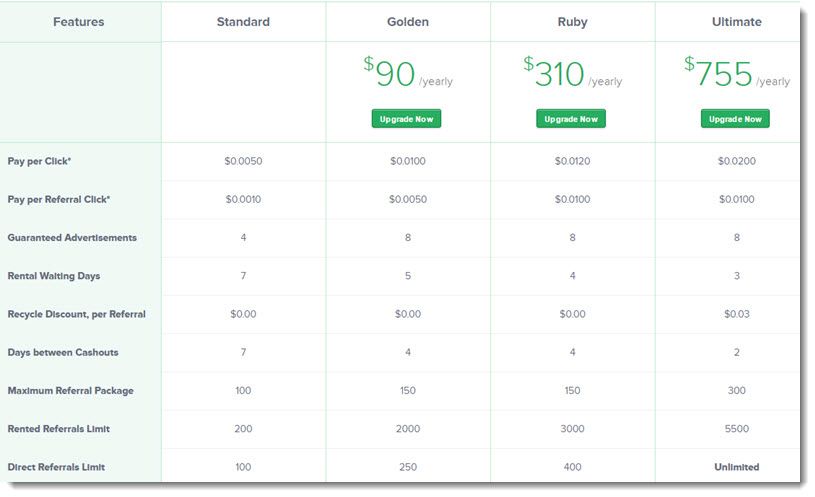 Why Most "Bux" Sites Eventually Collapse? 
---
Because their profits come primarily from new member's investments rather than selling advertising.
As I explained, businesses don't see much value in advertising in such websites where people are not genuinely interested in buying their products. Users just want to make money, not spend money.
It is difficult to keep such system running for a long time because there is not enough money coming from external advertisers. At some point, old members want to see profit and cash out, but the money from new members is not enough to sustain the system. As a result, the owner usually defaults on his debt.
Final Thoughts
---
Like all PTC sites, LittleBux is an inefficient and risky website to use.
You invest in referrals, buy expensive memberships, just to lose money or make a few dollars at most.
If you still want to use PTC websites, consider more long-standing platforms like Neobux (since 2009), Clixten (since, 2012), Scarlet Clicks (since 2009) and SuccessBux (since 2012).
My advice? Don't gamble on PTC websites! Create your own legitimate online business and work full time from home.
A Respectful Platform to Create an Online Business 
---
If you want to make a serious income online, I suggest you work for yourself by creating an online business! But how do you do that? The same way as I did since August 2015, I created a website in which I promote what I want and make affiliate commissions only from renowned products and service that benefits other people. This allows me to work from home, make some extra cash and increase my business to the point when I can finally replace my 9-5 job.
Wealthy Affiliate is the platform that I always promote here because they provide an excellent training and tools to start and succeed. I am a member myself, and I wrote a very thorough and positive review about it.
So, what do you think of all this situation involving Little Bux? Do you have any question involving PTC websites or my recommended way to make money online? Feel free to leave your comments or questions just below. I will be more than glad to help you out!
Your friend
Stefan