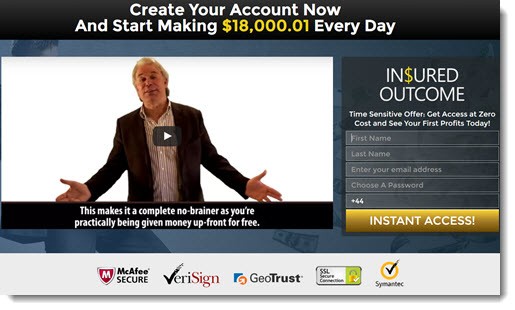 Insured Outcome promised HUGE profits of at least, $18,000.01 PER DAY! Oliver Braitner is a good communicator, and he tries to convince you that his automated trading software will make you a millionaire in only 2 months!
Many people believe in unrealistic claims and end up investing large sums of cash for a dream. So, is Insured Outcome a scam? Or is it a real opportunity of a lifetime? Bear with me and discover the truth.
Insured Outcome Review
---
Product Name: Insured Outcome
Website: www.insuredoutcome.com
Price: $250 (minimum)
Money Making Strategy: Binary Options
Score:

0 out of 10
What is Insured Outcome? 
Insure Outcome is a binary option automated training software supposedly created by Oliver Breiner, the same man on the video. By the way, I haven't found anyone with this name on Google.
Maybe you have no idea what binary options are and how a software might help you make lots of money online. Don't worry because binary easier to understand than you think.
Binary Options is a way to speculate in the financial markets. You are not investing in any assets (currencies, stocks, indices, commodities), but just placing a bet (trade) on 2 possible outcomes: You can either guess that the price of an asset will go up or down after a given period. If you are correct, you win around 70-85%, but if you are wrong you LOSE EVERYTHING. It's extremely risky!
Now, the nice guys behind Insured Outcome apparently created a software that will ALWAYS place trades on autopilot. Literally a money printing machine!

Did You Really Stumble into The Promised Land? 
It's impossible to earn $540.000 in the first month, first year and even the first generation of our grandchildren!
Oliver Breiner tries his best to persuade you that his software really works. He says he gathered the best trading analysts and programmers in the world to create the most powerful auto-trading APP in the World.
Why on earth would he spend over $50 million in a money printing system and give it away for free?

This reward platform is going viral! Cash out via PayPal, Visa, Gift Cards, and in-game currencies - Click here to find out how to generate an extra $10+ per day! 
He explains by saying that he only makes money when you make money!  He also makes money when you lose… I will explain the system in the next section.
How Does it Work? 
After you provide your name, email and phone number, you will land on the binary options trading platform. Then, you have to make a deposit of at least $250 for this brokerage firm to start trading with the APP.
This is how the software looks like: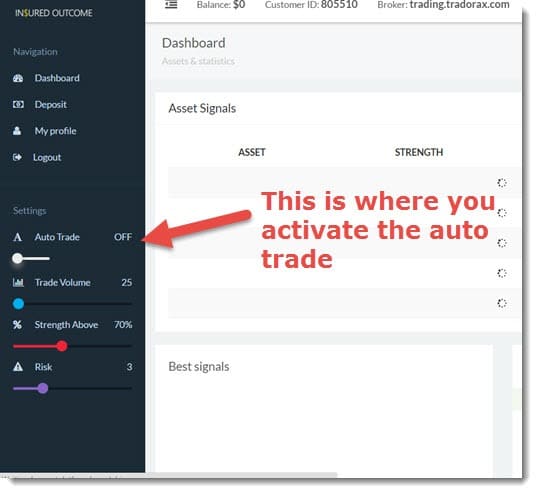 If Insured Outcome will earn a generous commission from their broker whenever you make a deposit.
The truth is that there is no software capable of predicting the financial markets with any degree of precision. That's because computer programs cannot anticipate the staggering number of factors in economy and politics that affect the markets. It's simple as that.
It's important to understand that you are not making money from real transactions in the financial market. So all that talk about the trillions of dollars that are traded worldwide is empty! Instead, the deal is between you and the broker, only!
Brokers can only make money when you lose money. Remember when I said they earn 100% when you lose a trade? This big edge against you is how they are able to take their big profits and pay other traders when they occasionally win a trade. Just like a Casino! 
Final Thoughts – Is Insured Outcome a Scam?
Insured Outcome promises at least $18,000.01 per day but the software doesn't work, and there is no reason to believe they will guarantee this money for you.

Where will the money come from? Remember, brokers only exist to make money, not lose money…
There is not even a Terms and Conditions page on the website, so please, avoid like the plague!
My Recommended Method Make Money Online
If you are serious about making money online to finally quit your job, you need to accept the fact that it will take time and effort. You also need to know that you should be the owner of your own online business if you want to make $1,000's per month.
But how can you build an online business? Well, need to build a website and from there, you have a world of opportunities to make money. My recommended method is to build a website about anything that interests you, start writing about that topic and promoting related products as an affiliate.
But you need proper guidance from the start in order to get on the fast track and avoid pitfalls. Click on the link below to know more about my #1 recommended platform that will help you build a successful online business.
I hope this article was helpful in saving your hard earned money. If you have any questions or need a hand building your business, just leave me a message below.
Your friend
Stefan