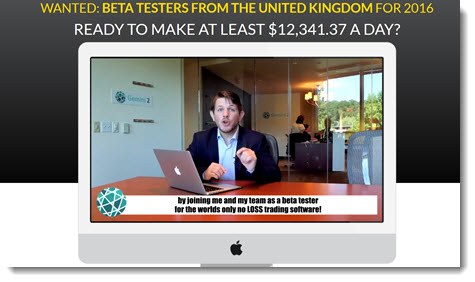 Brandon Lewis is inviting you to become one of the 50 beta testers for his NO LOSS trading software. What's interesting is that the website has been running since may 2016, but they still weren't able to fill up all the positions. Very suspicious! This fact alone is a good reason to become very skeptical about this system. So, is Gemini2 a Scam or a real opportunity?
Read on and discover the truth before you put at least $250 at serious risk!
Gemini2 Review
---
Product Name: Gemini2
Website: Gemini2.co

Price: $250 (minimum deposit)

Recommended?

No

Score:

0/10
Ready to Build a Successful Online Business and make Real Money Online? 
>> Check Out My #1 Recommendation
What is Gemini2? 
Gemini2 is a binary options trading software that supposedly predicts the financial markets and generates extraordinary profits. According to the video, the algorithm has been consistently making over $12,341 PER DAY without a single losing trade.
Brandon Lewis, the creator of Gemini2, tries to impress you by claiming he was one of Google's top engineers. And because Google didn't take seriously his prediction software, he started to think about other uses for it. Eventually, he came up with a great idea to apply the algorithm to the financial markets, which turned him a multimillionaire at the age of 28.
Now he just wants to help other people and change their lives. Impressive generosity… You can see in the video Brandon approaching an aleatory a guy on the street and helping him make a fortune in just 30 days. It's surreal!
Nonsense and Fake Ownership
Let's suppose the system really worked. Think about it, why would this guy bother creating a company and a website to attract only 50 people? Unless you are in the jungle, finding people that want to become financially free is not so difficult, right? Yet, even after 6 months, he was not able to fill up all the positions. 🙂
I researched the name Brandon Lewis and his possible connection with Google. I couldn't find any information that proves he was indeed a former employee. Either Brandon Lewis shows up as a member of Parliament, or it appears in other Gemini2 reviews.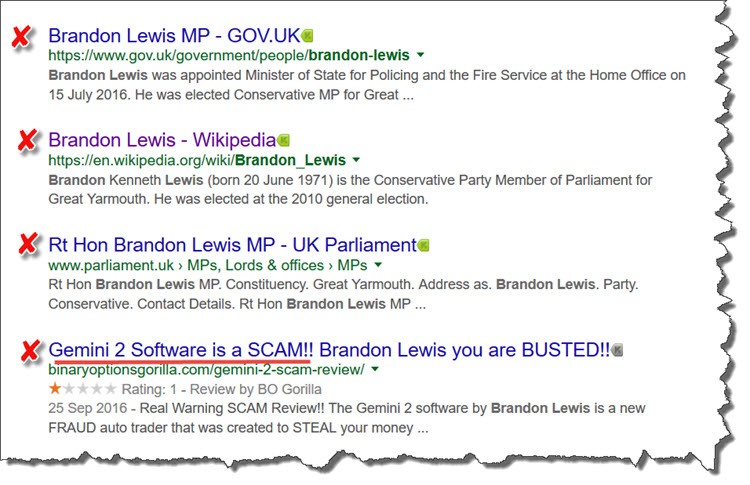 Trust me, anyone that worked for a huge company can easily be found on Linkedin. So, this guy is certainly hiding his true identity and claiming to be someone he is not. Only scammers do that!
Don't Be Fooled! 
The video presentation is fake, and all the promises of huge profits are blatant lies. All they want is to entice you to deposit at least $250 to the recommended broker, which will quickly vanish after you activate the software.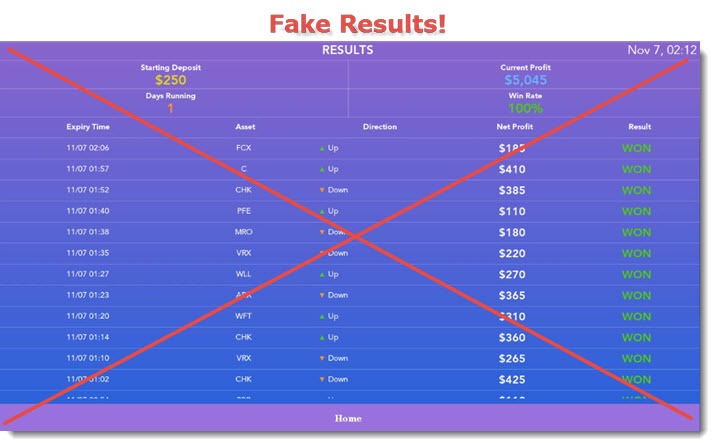 The software will not predict the financial market, so you are dealing with something extremely risky here!
Next, I'm going to show you how this system works to steal your hard earned money.
How Gemini2 Works? 
The system is a collusion between the owner of Gemini2 and the binary options broker, which is the platform to bet/trade in the financial markets. First of all, you need to understand about binary options, but it's not that difficult.
In binary options, you have to decide if the price of assets like commodities, currencies and stocks will go up or down after a short time. Some trades take just a few seconds. Heck, how are you supposed to know if the price of Gold will increase or decrease in just 60 seconds?
If you guess correctly, you earn around 75% on top of your investment, but if you are wrong, you lose 100%. For that reason, Binary options is extremely risky, even for highly experienced traders!
So, the tactic used by scammers is telling people that a software can predict the market movements. Without this lie, very few people would risk their money because the chance to lose is pretty high.
Here is a screenshot from the system, which by the way, looks very unprofessional!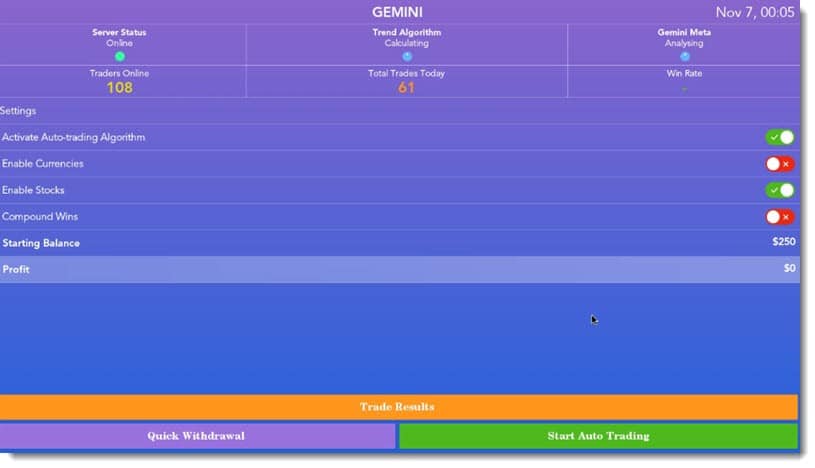 When people fill up the form and eventually make a deposit, the owner will earn a generous commission from the Broker. Afte all, he was responsible for converting this person into a blind trader – an easy prey of their system.
Conclusion – Is Gemini2 a Scam?
Yes, I am 100% sure it is. I have reviewed dozens of frauds involving binary options auto trader. Cambridge Method, Blazing Trader, PRIZM and Pay My Vacation were the most recent scams exposed on my website.
Gemini2 is a typical get rich quick scheme, where the only ones making huge profits are the website owner and the broker. These are dirty profits amassed from the hype and false promises.
Avoid Gemini2 at all costs!
Verdict: Not Recommended!
A Legitimate Strategy to Make Money Online – The Same I Use!
Don't trust any website that claims you will make big money quickly and without any effort. It's probably a scam!
If you are serious about making money online to finally quit your job, I highly recommend the same strategy that I use to make over $300/month. It's not a lot of money but I know that if I can make $300, I can scale that and make $1000, $2000, $10,000 and so on! It's only a matter of time and dedication because I already know what it takes…
The strategy is called internet marketing, and it's simply the most powerful strategy you can find! The main reason people fail is because they give up too soon. They want quick results and they fear their time will be wasted. As a result, the initial motivation fades away and the dream is gone!
Don't be another one to sit down and wait for results. You need to learn and take action! You can do it! Anyone can!
So, how can you get started? Follow the same step by step training that I took with Wealthy Affiliate and start building the foundation of your online business – A website.
You can actually get started completely free using their free starter membership. This will give you the first 10 lessons and 7-day instant support from experts whenever you're stuck! You can't go wrong with a platform that has been training thousands of successful internet marketer for over 11 years!
>> Click Here and Read My Full Wealthy Affiliate Review
I hope this article helped you see both the true agenda behind Gemini2 and a real opportunity to make money online. If you have any question or thought, drop me a message below!
Your friend
Stefan