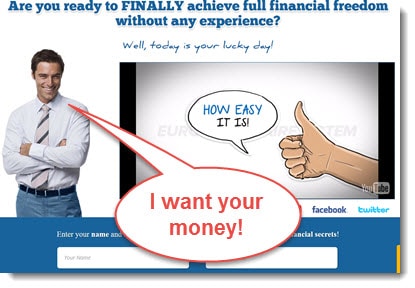 Are you ready to finally achieve financial freedom without any experience? This is the first thing that you read when you visit a website called Euro Millionaire System. David Williams is trying to convince you that he created a system that will increase your chances of winning big money trading in binary options. Is Euro Millionaire System a Scam or a legitimate opportunity to become a millionaire?
Check my Euro Millionaire System Review to find out!
Euro Millionaire System Review
Product Name: Euro Millionaire System
Website: www.euromillionairesystem.com
Price: Minimum $ 250
Business Type: Binary Options
Recommended?

NO 
Score:

0 out of 10
---
Sick and Tired of Scams?
---
What is Euro Millionaire System?
Plain and simple, Euro Millionaire System is a website promoting a binary options trading platform called Optek. David Williams, the alleged owner of the website, claims that he developed a system where you can make money quickly and easily… Yeah, I have heard that fairy tale a thousand times.
Pros & Cons
Pros
Although the system is misleading, they explain in detail how it works so you can make an informed decision
They do warn you that losing is also part of the game
The broker is registered by CySEC
Cons
The strategy is useless – it's presented just to con people into paying a deposit for the broker
High risk – it's like gambling
Low profit – 64% profit for each winning trade is quite low
A Few Words About Binary Options
Binary options is a way to speculate in the financial market by trying to predict the movement of asset prices. This kind of trade is well known for its simplicity as you have only two possible outcomes. Either the price goes up or down.
If you think the price will go up, you place a CALL trade, and if you think the price will go down, you go for a PUT. You also have to choose the money you want to trade, the expiration time (as low as 30 seconds) and the type of asset (currency pair, commodities, stocks, indices).
Unlike traditional trading, you don't own any asset, and you know beforehand how much you will win or lose.
Read the next section to understand why losing money in binary options is the norm.
Understand The Risks – It feels like Gambling! 
For example, let's say you will trade $100 on the currency pair EUR/USD with an expiration time of 60 seconds. You think the price will go up the current value of 1.138 and choose CALL.
If the price goes up after 60 seconds, you win a percentage of your trade. This percentage varies from broker to broker, but Optek gives you 64%, so you earn $64. Now, if the price goes down, the broker will take everything and you will be left with $0. This huge advantage for the broker is one of the things that makes binary options extremely risky! 

Another risk factor comes from the high volatility of the financial market. There are a few skilled traders who analyse charts, spot trends and make informed decisions about future prices. Even though, they will never eliminate the high risks involved, especially when trading with an expiration time of less than 1 hour. In my opinion, any attempt to predict the market in such a short timeframe is a complete waste of time and energy.
When you trade with a short expiration time and/or without any analysis, you are gambling, literally! In that case, it's better to play roulette in the casino.
How Does it Work? 
In the first page, there is a motivational video that tells you how good it is to make money online, and live the life you have always dreamed of. They urge you to act fast due to limited memberships available – B.S. It's just an old tactic to hook you as quickly as possible.
You type your name, you email address and go the second video. This time, this guy called David Williams explains how his system/strategy works and how it improves your chances of winning.
Next, you will have to sign up with the Optek and make a minimum deposit of $250. Yes, it's a high price entrance for a gambling experience!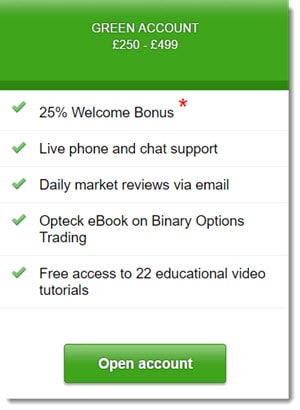 The strategy is simplistic and based on a tool that is offered not only by Optek but by many other brokers – The Trading Sentiment Tool.

The Strategy is Against You
This is a bar showing the percentage of users placing UP and CALL trades in real time. According to David, this tool is manipulated so that people choose the losing trades more frequently, thus generating more revenue for the broker. In David's own words:
Binary options brokers offer the Trading Sentiment Tool mainly because it suits them. Brokers make money whenever traders lose money, so it's logical that more often than not , they will attempt to influence you into losing a trade.
The strategy, therefore, is to go against the tool and choose what the minority is choosing in a given moment. In the example above, you would place "a UP trade" because it's indicating 44%.
In addition, the guy encourages you to invest higher and higher as you win the trades. Starting at $20, then $35, $50, $75 and finally $100.
Now, this is what I call great strategy!! Not for you, but for Optek and this website owner, who earns massive commissions every time you make a deposit.
Binary options as a betting platform
The strategy is useless! Do you know why? Because the broker cannot predict the market either and, therefore, cannot influence anybody to lose a trade. This bar simply shows the real percentage of people placing UP and CALL trades. Following the majority or minority doesn't make any difference!
In practice, they are telling you to use binary options as a betting platform, which, of course, is extremely favourable to them. Although you have a fifty percent chance, you need much more winning (in the money) than losing (out of the money) trades due to the huge broker's edge (36%). That's how people lose a lot of money in this business.
---
Don't Risk Your Hard Earned Money!
---
Can You Trust Optek? 
In my opinion, every honest broker should cancel payments to affiliates who use tricky methods of promotion. But they usually turn a blind eye to scammers in order to keep profits, of course. Now, leaving this dark aspect aside, which is very common in the industry, can you really trust Optek?
The number 1 requirement before trading in binary options is to check regulation. There are many many scams involving brokers because of poor regulation around the World and you don't want greater risks. Optek is regulated by the Cyprus Securities Exchange Commission (CySEC) since 2015 under licence number 238/14, which is good news.
The platform is not that bad. They have over 70 assets to choose from and different options such as Quick Options, High/low, Range and One Touch options. They also offer a free ebook that explains binary options and how to trade on the platform.
You can test drive by clicking on "Trading Accounts" and "Demo Account". I encourage you to apply the strategy and see for yourself that you can only rely on luck! I have tried myself and had a big loss as expected.
This is a screenshot of the platform: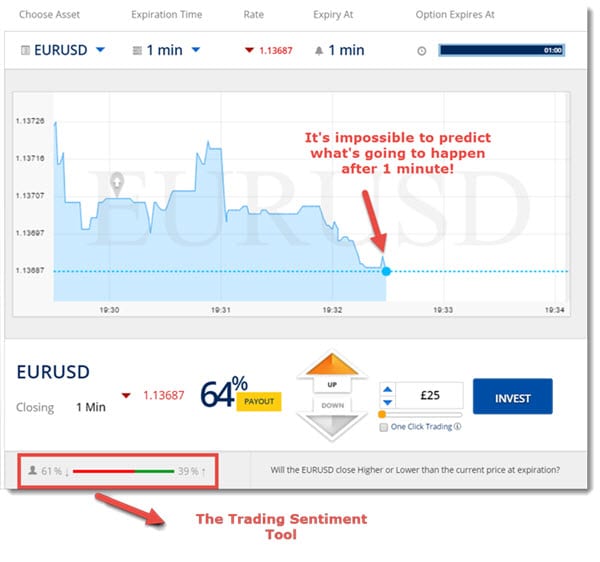 Bottom Line – Is Euro Millionaire System a Scam?
Unfortunately, Binary options trading is a legitimate way to make money online. In my opinion, it should be eradicated from the face of the earth!  It's not only extremely risky but also an open door for scammers, who roam freely on the internet deceiving people and earning massive commissions from complicit brokers.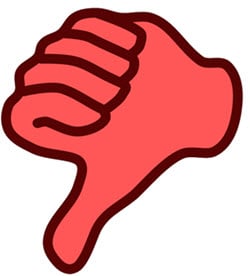 In my opinion, the strategy offered by David Willians is hopeless! Similar to other websites I have reviewed such as The Oxford Method, Ultimate4Trading, Millionaire Blueprint and The Real Dream Maker, it also gives a false sense of control and hope.
It urges people to make large deposits of $250+ for a system that was designed to suck money like a black hole! 
Verdict:

NOT RECOMMENDED! 
A Solid and Proven Method to Make Good Money Online
If you want to make consistent and substantial income online, I highly recommend building an affiliate marketing business. This is an intelligent model whereby affiliates (you) promote retailer's products in exchange for excellent commissions.
How does it work? In a nutshell, you will create a website and write articles that will rank on the main search engines (Google, Bing and Yahoo) for specific words/phrases. Then, people searching for these specific terms in Google will find your website and read the article.
Great! In addition to offering a valuable content to your readers, this is also a good opportunity to promote your affiliate products!  If someone clicks on your affiliate links ( a special type of URL with your ID embedded) and purchases something from the retailer's website (e.g., Amazon), you will earn a percentage of the retail price.
I really love the idea of making money from a website, because once an article is done, it keeps working for you and generating commissions round-the-clock. Besides, the effort that you put in the past will keep paying you for years and years! This is intelligent passive income!
My Recommended Platform to Build and Online Business
I study and get all the support and tools that I need to develop my business inside Wealthy Affiliate. This a top-notch training platform where you can attend the first 10 lesson and build 2 websites completely free of charge. The membership never expires, so you can keep your website for life! No credit card is required either.
Thanks for reading! Have you ever traded in binary options? What is your opinion about this method to make money? Please, leave your thoughts and questions below. I would love to hear from you. 🙂
Your friend
Stefan