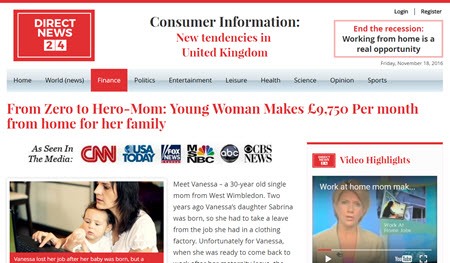 I've recently come across a Google ad that had the following title: "$8,000/mo working from home – Make $87/hr working online". Pretty enticing, right?
When you see this type of ad, don't even waste your time checking what is inside. It's never a good thing!

I went ahead and landed on a very suspicious news website. It makes you dream about making thousands of dollars for working only 3 hours a day from the comfort of your home. So, is Direct News a Scam or legitimate?
Uncovering Direct News 24 
First of all, making $8,000 per month online is possible. In fact, there are thousands of internet marketers who earn much more than that. Click here and read about the best training platform to achieve that income level.
The problem is that the internet is full of people trying to sell you products and services that promise huge profits without any effort.
When I entered the link, I landed on a website called Direct News 24. Note that the name doesn't match the web address promoted in the ad – www.working-from-home-online.com. So, that's the first red flag.
Then you will see an article entitled "From Zero to Hero-Mon: Young Woman Makes £9,750 per Month From Home for her Family". WOW!
It tells a story of a poor mom who lost her job and faced severe financial problems. That was when she discovered a simple software that allowed her to work only 3 hours per day and earn more than £8,000 per month! I see…

Trust me, I heard that same story one hundred times before. A software that will make you lots of money on autopilot will never exist!
Continuing with the fairy tale, the title says the woman makes £9,750, but later on, you discover that her record was actually £8,795 for a month. Ops… just a small slip-up.

This reward platform is going viral! Cash out via PayPal, Visa, Gift Cards, and in-game currencies - Click here to find out how to generate an extra $10+ per day!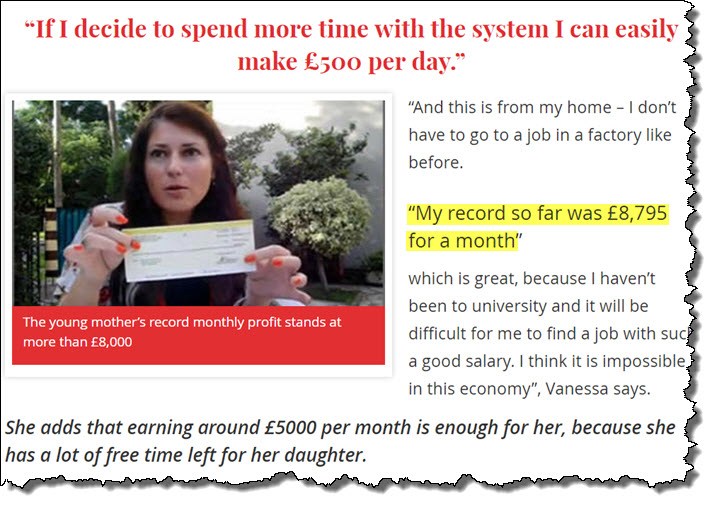 [thrive_text_block color="note" headline=""]If you are interested to know the platform I use to make $900/month online, check out my #1 recommendation. It takes time and effort, but it's worth it and achievable with the right knowledge and mindset. [/thrive_text_block]
100% FAKE! 
Now, here is the interesting part!
The site was designed to look like a genuine news website, but it's 100% FAKE.  It doesn't matter if you click on politics, sports, World news or whatever. Every single link that you see on that page will lead you to the same website that will push you this fabulous system.
Which system? Well, it depends on the day and the exact website that you visit. Yes, there are clones of the same page in different addresses promoting different get rich quick schemes.
I spot only 2 pages, but I suspect there are more!
For example, direct-news-24.com is currently promoting The Brit Method, and directnews24.com is promoting WonderClicks.
Note that both sites are identical, except for the money Vanessa, our hero mom, is making. Just take a look:



So, What is the Brit Method and WonderClicks All About?
Simply put, both sites are scams involving binary options. They will try to convince you that their software can beat the financial market and generate huge profits with no effort. No, it can't!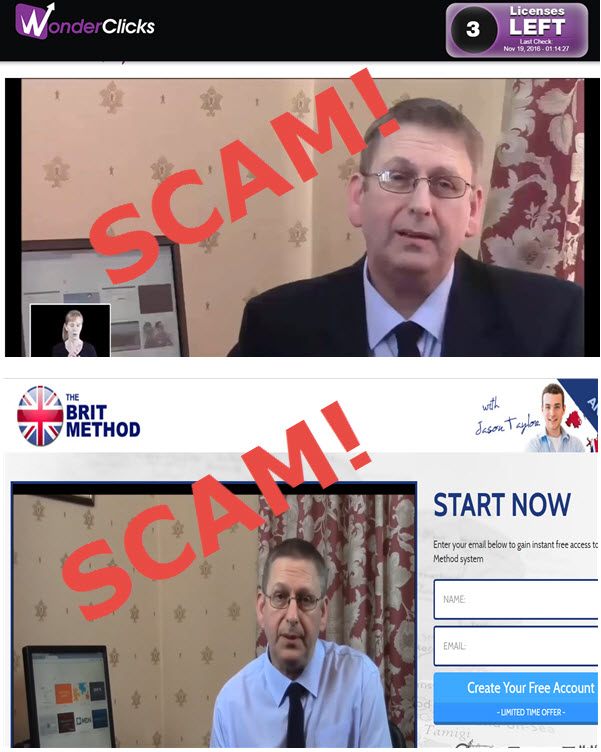 I have reviewed dozens of similar websites! By the way, the Brit Method is literally the same as The Oxford Method, The Singapore Method, The Canuck Method and many other "methods".
You are dealing with very smart marketers who will grab your attention by telling you that the software is 100% free and that there are no risks. Absolutely nonsense!
You must make a minimum deposit of $250 to the binary options broker. And you will lose all your money because it's very risky!
So, don't fall for them!
My Verdict
In my opinion, you should stay well away from Direct News 24. They will not direct you to a real job opportunity nor a way to earn a reliable income online.
In reality, they are just an affiliate site. Meaning that they will earn commissions if you end up clicking on their links and making a deposit.
Update 1
After 10 months since I wrote this review, Direct News 24 is still up and running! They use multiple websites to advertise on AdWords, and when people click on these ads, they are redirected to direct-news-24.com.
The site is still linking to the binary options industry, which is a destructive business model.

Update 2 
After 1 year and a half, Direct News is still investing in advertising and now promoting scams related to Binary Options. The current website that you will probably see when you click on any link is Bitcoin Loophole.
It's a very risky system that has nothing to do with "working" online. It's all about trading with cryptocurrencies, which are extremely volatile.
Update 3
The next website that direct News 24 has directed people to is called Bitcoin Focus Group, which will also direct you to a cryptocurrency trading platform. Extremely risky, folks!
How Can You Really Make a Living Online?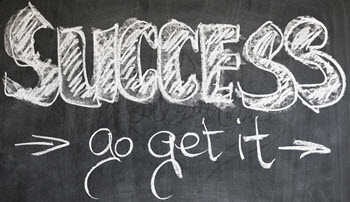 It's possible to make a living online and finally get the freedom you have always dreamt of, but please understand that you will have to work hard for it.
There are simply no shortcuts, but for those willing to put in the time and effort, the reward is awesome!
The strategy that I always recommend and has been working for me is called affiliate marketing. This strategy allows you to make commissions by promoting other people's products through your own website.
There are many advantages to building a website and promoting products as an affiliate. Here are some of my favorite ones:
Unlimited income potential
No customers or inventory
Work at your own pace
Make money regardless of where you are
You can create a profitable site focused on your passion. So it doesn't feel like a job!
If you are willing to commit yourself to success, get started here, follow the free step-by-step training, and build the foundation of your online business. That's the best advice I can give you.

Also, if you have any thoughts or questions leave me a message below. I will be more than glad to help you out.
Your friend
Stefan