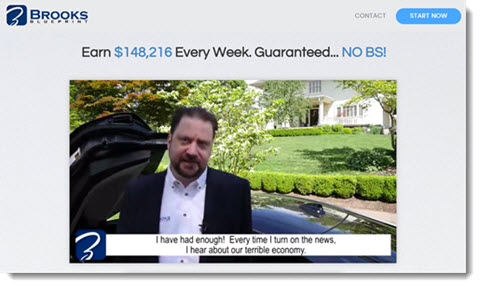 Financial freedom is just a couple of clicks away when you get access to the Brooks Blueprint software. Yes, we all wished a magic software could solve our financial problems overnight. But we also know that's completely unrealistic. After all, who'd create a money-printing software in exchange for nothing? Is Brooks Blueprint a scam or a real opportunity?
Check my honest review to find out the truth.
Brooks Blueprint Review
---
Product Name: Brooks Blueprint
Website: brooksblueprint.com
Money Making Strategy: Binary Options
Price: $250 minimum
Recommended?

No

Score:

0/10
The Most Reliable Strategy to Make an Income From Home
What is Brooks Blueprint
Brooks Blueprint is another binary options auto trading software. I said "another" because the internet is full of people willing to give you a free software to change your life. Unbelievable!
The software is said to generate only winning trades in binary options. No knowledge or experience necessary! All you have to do is activate the it and wait for the money to flood into your account.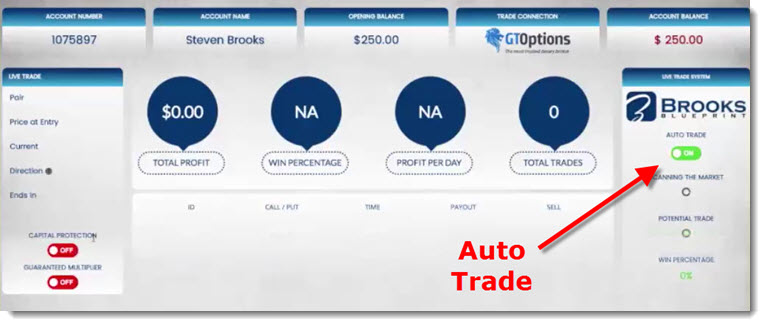 The presenter of the video didn't even explain how binary options works. Why? Because he'd have to reveal important information that would certainly intimidate you. Read the next section to discover what they don't want you to know.
The Truth About Binary Options
Binary options is a type of trading where people bet on the movement of asset prices. IN a manual operation, you have to decide if the price will go up or down after a short period. Then, you place your trade with the broker (trading platform), and wait for the result.
For instance, if you think the price of Gold will increase after 1 hour, you select a "CALL" option. If and you are right, you earn 70-85% on top of your investment. In case you are wrong, the broker usually keeps 100%. That's why brokers make a lot of money, just like a casino does.
Trading in binary options is extremely risky because asset prices change rapidly and unpredictably. Besides, the fact that the broker keeps 100% whenever you lose makes you very vulnerable.
No Software Can Predict the Future, So…
Keep in mind that it's impossible to have any certainty over future asset prices. The reason is that prices will always change according to future events in the economy, weather and politics.
Algorithms can make calculations based on past results, never on future results. It doesn't now future. Thus, no software will ever be able to increase winning rate in binary options. 
Here is the proof that the software doesn't guarantee any profits. If you scroll down the page you will see the income disclaimer. Click that link and you will see the following statement:

This reward platform is going viral! Cash out via PayPal, Visa, Gift Cards, and in-game currencies - Click here to find out how to generate an extra $10+ per day!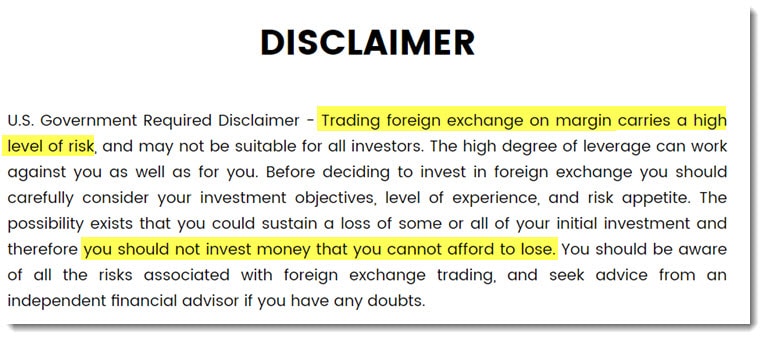 Why would they need to warn users about the high level of risk? Simply because the software doesn't work!
But's Free! What's the Catch?
The guy explains that he is giving out the software for free because he wants to make a contribution to society. Seriously, I struck a nerve when he said that… BS!
Yes, the software is free but you have to fund the broker's account with at least $250. As a result, the owner of Brooks Blueprint will earn a generous commission from the broker. I am talking about over $100 for each referral ! That's why they made up all this captivating story…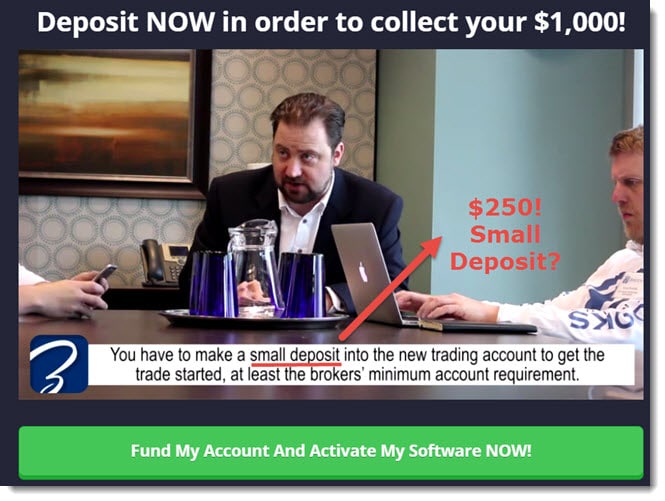 Matched Bonus – What For? 
As an extra incentive, the broker will give you a matched bonus when you fund your account. So, if you put $500, you will be able to trade with $1000. Remember that Casinos love to give you bonuses as well!
Heck, they double your account because they are so confident you will lose all your deposit. These people are very clever!
Conclusion – Is Brooks Blueprint a Scam? 
Yep. I am 100% confident this is another scam involving binary options! I have reviewed lots of similar websites, such as Pay My Vacation, Qbits Mega Profit System and Quantum Code. The actors are different but you will always find the same ingredients:
Limited spots
Free automated softwarehttps://myroomismyoffice.com/affiliate-marketing-business/
High winning rates (over 90%)
Yes, anyone trying to convince you that a software can predict the market is simply lying to you. People who really want to make a contribution to society will never partner with a binary options broker.
Verdict:
 Deceitful – Not Recommended

My Recommended Method to Make Money Online
It's possible to make lots of money with binary options, but it's not worth the risk. For example, in order to make $10,000 you must accept the risk of losing more than $10,000. That's why people cannot rely on this method to make a consistent income from home… It's like relying on gambling!
If you want to make a reliable and significant income from home, you should build an online business. It takes time and effort, but you can grow it to a point where your commissions overcome your 9-5 salary. After that, the sky is the limit… The best part is that you can decide to build a business about your passions and interests. So it doesn't have to feel like a job!
If you want to learn more about how to build an online business and where to get proper education and support, read my #1 recommendation review. This is a great educational platform that will walk you through step by step from scratch.
What I made me trust this platform one year ago was the awesome free starter membership. It will give you initial training, 2 websites and 7 days of unlimited support completely for free, so it's worth checking out.
Thank for reading this review. I hope it I could save your hard earned money from this deceitful website. If you have any questions or thoughts, please leave a message in the box below.
Your friend
Stefan