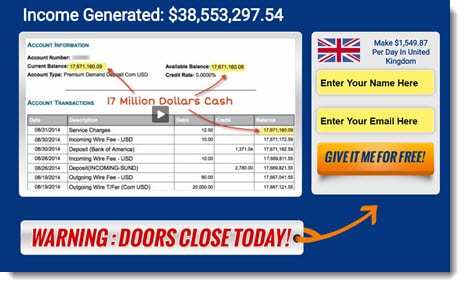 The owner of Auto Profit Replicator is trying to convince you that his trading app will make you tens of thousands of dollars each day on complete autopilot. Is Auto Profit Replicator a scam or can it really give you financial freedom?
According to the owner, the principle is simple: trade less and win more! Well, that doesn't answer the key question of how the software really works. Does it really increase winning trades?
Check my review and find the truth about this apparent get rich quick scheme. If you want a reliable method to make money online, feel free to click on the link below and read about my #1 rated program.
Auto Profit Replicator Review
---
Product Name: Auto Profit Replicator
Website: autoprofitreplicator.com
Money Making Strategy: Binary Options
Price: $250 minimum
Recommended?

No
Score:

0/10
What is Auto Profit Replicator? 
Auto Profit Replicator is a binary options trading software that promises a high level of accuracy. Once activated, it will automatically place trades on your behalf and help the broker suck your wallet dry. Yes, that's right! There is no way any software can increase winning rates in binary options, so you will never be safe!
If you want to understand why this software will never work, you need to know how binary options work. But don't worry, it's not that complicated.
How Does Binary Options Work? 
Binary Options is a type of option where you make a bet on the price movement of an asset, such as currencies, indices, stocks and commodities.
First of all, you have to fund your account with the trading platform (broker). So, no, it's not free! Then, you have to decide on the asset, the expiration time (minutes or a few hours), and guess if the asset price will go up (call) or down (put).
The graph below shows the price of gold vs. time. As you can see, the asset prices fluctuate widely and that's because they are affected by many factors in the economy and politics. Thus, it's practically impossible to have the slightest confidence of what's going to happen after 1 hour, let anole 1 minute!
What makes binary options extremely risky are the short expiration times and the huge house edge against you.

This reward platform is going viral! Cash out via PayPal, Visa, Gift Cards, and in-game currencies - Click here to find out how to generate an extra $10+ per day! 
For example, if you win a trade, you earn 70-85%, but if you lose, the broker keeps 100% of your investment. That means you have to be extremely lucky and win many times in a row to make profits. Similar to a casino, the vast majority of people lose money, and that's how brokers make their fortune.
Why Auto Profit Replicator Doesn't Work?
With Auto Profit Replicator, you don't need to analyse the market or anything. The software is said to trade only when it knows it's going to win!

The statement above is false. The software never knows! It's just a gimmick used by affiliates and brokers to make people feel confident and play with fire.
All algorithms used to predict the market are flawed by nature because they are always based on past results. What's past is past, and as I already said, future events in the economy and politics are the real drivers of asset price change.
Is it Really Free?
In addition to all the hype, the website claims the software is completely free! Surprisingly, that's one of the few true statements in the whole story, and you know why! The app is useless!
After you insert your name, email and phone, you will land on the broker's platform, which is CFD Stocks. But you can only start trading when you make a deposit of least $250. That's too much money to put at risk!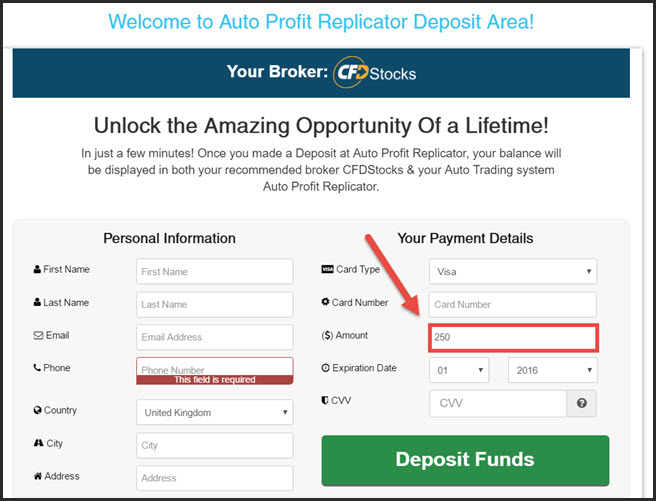 And when you do that, the owner of this deceitful website will get a generous commission from the broker. That's why you can find many websites promoting the same crap, such as 7 Figure Months, Instant Cash App and Smart Profits. Some affiliates earn more than $100 for every people that are lured into the system.
Scammers love to take advantage of lay people who don't know about the high risks involving binary options. Get more information about the dangers by reading this document published by the SEC ( Securities and Exchange Commission) – Binary Options and Fraud.

Unknow Broker – Stay Away from it! 
When you are trading in binary options, it's extremely important to make sure the brokerage firm is regulated. The thing is, I couldn't even find information about CFD Stocks on the internet. I didn't find the official website, and apparently, no one is even talking about it. That's another good reason to stay away from Auto Profit Replicator.
Conclusion – Is Auto Profit Replicator a Scam? 
Yes, Auto Profit Replicator is another binary options scam that will never earn you thousands of dollar per day. Considering the sheer number of "miraculous" auto-trading software on the internet, the World your be filled by rich people if they really worked. But they don't! 
Here is the hard truth that deep inside you were always aware of: It's impossible to get rich quick… We all need to put in significant effort in order to make significant money online.
Verdict: 

Not Recommended
Is There a Better Way to Make Money Online Without Serious Risks?
Absolutely! There are lots of opportunities and you can really quit your day job by doing online marketing. Instead of putting your money at serious risk or working for other people, I advise you to build your own online business and work for yourself. That's what I decided to do, and it's working the way I planned!
If you are serious about it, I strongly advise you to join me in my #1 recommended platform. You will learn the key strategies and get the support you need to build a successful online business focused on your passions. It's free to try and the link is given just below.
Work smart for yourself, take your business seriously, surround yourself with knowledgeable people and you will go far. Be confident in your potential! If you need a hand, I will always be here to help you out!
Get Proper Training and Build your Online Business!
I hope this article was helpful to you. Please, feel to leave your thoughts and questions in the box below.
Your friend
Stefan