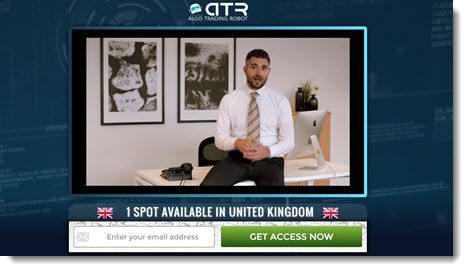 This website is trying to make you believe in financial freedom without any effort. By signing up to this opportunity, you are promised a software that predicts the market and generates $2,600 PER DAY on average. I know, this sounds too good to be true! So, is Algo Trading Robot one of those Binary Options Scams?
I am here to explain the true intentions behind Algo Trading Robot and why it will never predict anything. Read on before you invest at least $250 in this risky business.
Algo Trading Robot Review 
---
Product Name: Algo Trading Robot
Website: algotradingrobot.com
Money Making Strategy: Binary Options
Price: $250 minimum
Recommended?

No

Score:

0/10
What is Algo Trading Robot?
Algo Trading Robot is an automated binary options software supposedly created by a professor of applied mathematics from Oxford University. The software is said to predict the financial market and win trades 88.7% of the time.
First of all, the financial markets are affected by a large number of factors in the economy, business, politics and weather. Therefore, it is absolutely surreal that an algorithm can predict every factor and combine them to anticipate asset prices.
Before I show you the truth about the software, it's important that you understand why binary options is so risky.
Binary Options is Extremely Risky
Trading in binary options is basically betting on what's going to happen with prices of commodities, stocks, currencies and indices. Usually, you have to decide if the asset price will go up or down after a very short time (sometimes a few seconds). And because the financial market is so unstable, there is always a high degree of uncertainty, even for highly experienced traders.
You won't invest money in any asset, you will just bet/trade with the broker, which is the owner of the trading platform.
There are only 2 possible outcomes in binary options: You either win a fixed amount if you are correct (usually 70 to 85%) or you lose everything if you are wrong. So the broker keeps your money when you lose a trade, and it gives you money when you win.
As you can see, the system is extremely risky because the broker has a huge advantage against you.
Don't Be Fooled
Algo Trading Robot is just a useless system that was designed with only one thing in mind – Make you put at least $250 at serious risk. No software can predict the market, and even if someone discovered a magic formula, it would never become available to the public.
You can try hard, but you won't find any professor of applied mathematics at Oxford called Stanley Nash. Trust me, if they are lying about the ownership of such system, they are also lying about anything else.
I spot one contradiction in the sales pitch that proves my statement. The guy claims that in the first 4 years the algorithm was profitable on 1041 out of 1042 trading days. Therefore, the winning rate should be 99.9% rather than 88.7% as previously stated!
So yes they are lying.
Is it Really Free? 
Considering the big house edge against you, and the fact that the software doesn't work, making any profits using this system is a mission impossible. 
Although the software is free, you still have to fund the broker's account with at least $250. As you may have noticed, the software is just used as a bait to increase your confidence and get you to make a deposit.
Once you make a deposit, the owner of Algo Trading Robot will earn a generous commission from the Broker. That's the primary intention behind this website…
I have reviewed tons of such useless software such as PRIZM, Pay My Vacation, Quantum Code, Millionaire BizPro and many others! All of them are only designed to make Brokers richer at the expense of people's hard earned money.
Conclusion – Is Algo Trading Robot a Scam?
In my opinion, yes.
It's not only about the risk of losing trades. You can also be a victim of a software that manipulates results, and brokers that steal your money AND identify.
No software is able to predict the market, so you should never trust anyone that says it's possible, no matter how the story looks convincing.
Verdict: Not Recommended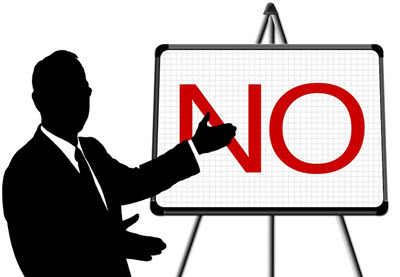 My Recommended Strategy to Make Money Online – Risk-free! 
We all wished there was a quick solution to our financial problems. But the economic system is designed so that each individual needs to work hard if they want to achieve something more from this life. Those who sit down and do nothing will get nothing in return…
The internet offers a huge opportunity for those who have a genuine interest in helping other people and work hard. If you are part of this group of people, you can make a significant income online and achieve the freedom you have always dreamt of.
The best strategy that I can recommend to you is called affiliate marketing. By creating a website is writing helpful articles to your audience, you can achieve the level of income you want. I'm serious! That's because the more articles you write, the more potential customers you get on your site…
You get to work from your home and the power to make more money without having to beg for a pay rise.
You can do it! 
Don't be put off and think that you need to be a professional writer or have lots of experience. I started with no experience, English is not my first language and I never got great scores in my essays. However, all my articles combined make me over $300/month in passive income… All I do is write the same way I would speak to a friend!
If you want to learn affiliate marketing and build your website (online business), a highly recommend the platform that I use. It's called Wealthy Affiliate, and I can assure you this is the most reputable platform in the market.
They have an awesome community of over 800,000 members that are building their own business and helping other do the same. You will be able to interact with everyone (including me the owners) and ask for help whenever you're stuck.
But don't take my word for it. Wealthy Affiliate offers a 7-day free trial so you can start your online business without any strings attached. If it doesn't appeal to you, you simply log off and you have nothing to lose. Click on the link below to learn more about WA.
>> Check Out My FULL Wealthy Affiliate Review
I hope this article was helpful to you. If you have any questions or comments about any topic discussed in this article, feel free to leave a message below.
Your friend
Stefan