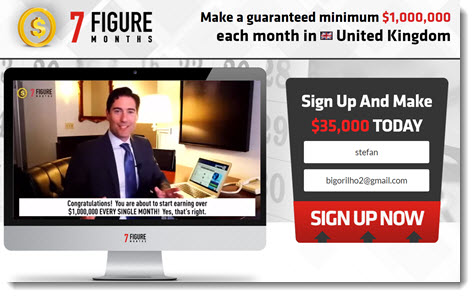 I stumbled across a multi-millionaire who decided to give away 20 copies of his money-making software. Martin Sounders guarantee that you will make over 1 million dollars PER MONTH on a complete autopilot if you decide to sign up! Seriously? Is 7 Figure Months a Scam or a life-changing opportunity?
Let's find out!
7 Figure Months Review
---
Product Name: 7 Figure Months
Website: 7figuremonths.com
Price: $250 (minimum)
Money Making Strategy: Binary Options
Score:

0 out of 10
What is 7 Figure Months?
7 Figure Months is a software that is said to predict the market and place winning trades in binary options. As a result, you are led to believe you will make over a million dollar per month guaranteed. Trust me, that's nonsense!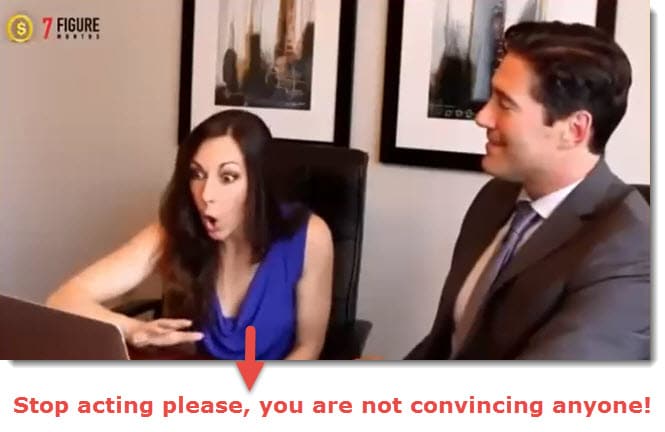 Binary Options is a simple a way to speculate in the financial markets. In a manual operation, you have to decide if the price of an asset (currencies, stocks, etc) will go up or down after a short time frame.
Then you have to place your trade with the broker. If you are correct, you win 70-85% depending on the platform. BUT, in case you are wrong, you usually lose everything, and that's how brokers are able to make their fortune.
Extremely Risky!
Trading in Binary Options is extremely risky because you are betting on the outcomes of the financial markets in just a few minutes or seconds.
Because there are so many factors in the economy and politics that impact the prices, nobody or software can predict such market movements with any precision, especially after a few seconds. Yet, Martin Sounders claims he discovered a loophole and that his software will never lose a single trade.
If so, why earn only 1 Million per month, and not 1 Billion?  That's something to consider…
Trading in binary options is even riskier than trading stocks, and no software will ever work for your benefit. Keep that in mind.
It Doesn't Make Sense!
Well, if this Martin Sounders had really created such a powerful software, why would he bother creating a website to give it away to complete strangers? Why not give it to more friends, family's friends, people in serious difficulties around his community… or ANYONE AROUND HIM?
If he wants to keep it a secret, why expose this opportunity on the internet? It makes no sense! To be honest, it stinks badly! Besides, the registration date of this website is 26 July, so how come there are still spots available after one month?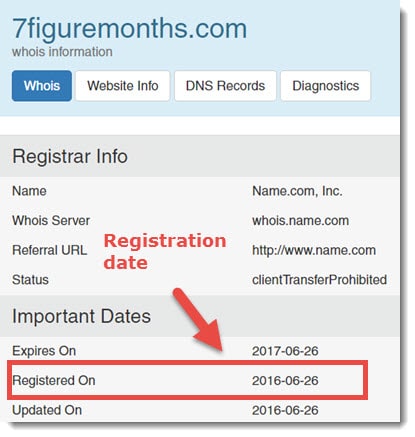 The Software is Free, But You Will Lose Money!
Here is the truth, the software will never work and you will lose a lot of money if you activate it. Yes, the software is free, but you still have to fund the broker's account with at least $250!
This money will be at serious risk! But don't take my word for it. If you open the Disclaimer, which is located at the bottom of the page, you will see this statement along with other important information:

It's clear for me now that if Martin Sounders really cared about your finances, he'd have mentioned that phrase in his video. But it looks like he is only interested in getting you to deposit $250 for his broker.
Using the Same Actor?!
When I provided my name, email and phone number on the second page, another guy appeared in a video presenting a demo simulation. Take a look at this person, also known as your 7FM Personal Advisor: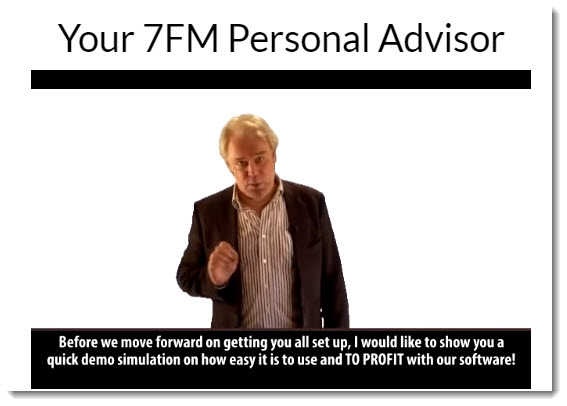 Surprisingly, this is the same guy who presents another deceitful binary options software called Insured Outcome, which I just reviewed 6 days ago.
Heck! He is even wearing the same suit!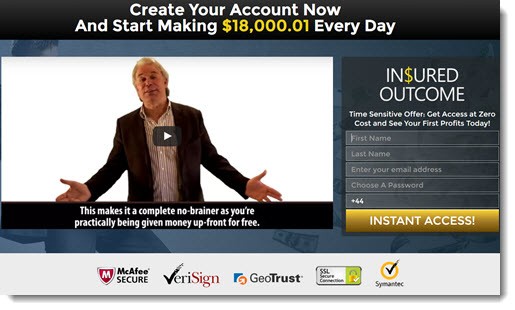 No, this gentleman is far from being your personal advisor. He is just an actor earning really good money to put his face in such a deceitful website.
Conclusion 
Instead of making 1 million per month, you will certainly have $250 less in your bank account. Not only that, they will probably try to convince you by phone that if you invest more money, you will recover your loss and start making profits.
Sadly, many people fall prey of these misleading binary options websites and end up losing a lot of money. So, keep your distance from 7 Figure Months and follow my advice below for a legitimate and proven strategy to make money online.
Verdict:

Not Recommended
A Reliable Way to Make Substantial Income Online
If you don't want to risk your hard earned money but still want to pursue a substantial income online, I highly recommend building your own online business. How? By creating a website and promoting other people's products!
Does that sound too complicated? Not really…
Every day, people of all ages and from all walks of life start their money-making websites about their interests and passions. And they really enjoy the process!
It doesn't feel like a job and besides, creating a website doesn't require near as much the technical skills as it used to.
Trust me, I started from zero and within just a few weeks, it felt like home with the help of my #1 recommended training platform. They guided me step by step not only to set up my website but also to make it highly profitable over time.
If you want to know more about this platform and how it can help you succeed online, click on the link below.
Thanks for reading this article, and I hope I could steer you well away from yet another deceitful website. If you have any thought or questions, don't hesitate to leave them in the box below.
Your friend
Stefan