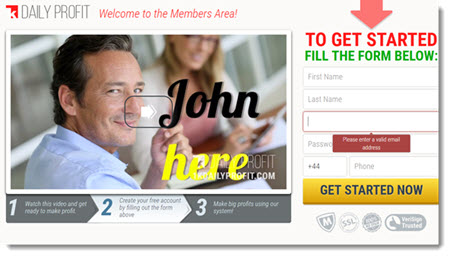 John Becker, the owner of 1k Daily Profit, claims to have cracked to code to profiting from the financial crises. He says you will make profits of at least $1,000 per day and live a dream lifestyle.
Is 1k Daily Profit a scam a truly revolutionary binary options software?
Let's find out!
1k Daily Profit Review
---
Product Name: 1k Daily Profit
Website: 1kdailyprofit.co
Money Making Strategy: Binary Options
Price: $250 minimum
Recommended?

No
Score:

0/10
What is 1k Daily Profit? 
1k Daily Profit is a binary options software that is said to win trades with 99,8% accuracy. With that level of accuracy, the owner claims you can just press the button and enjoy life while 1k keeps pouring into your bank account every single day. Can you imagine that?
Before I tell you how risky the system is, I need to show you something interesting.
Who is John Becker? 
The owner of this website is hiding his true identity. He uses a fictitious name and a fake picture purchased at shutterstock.com.

Fake Testimonials! 
Do you remember this woman claiming she has earned over $30,000 in one month?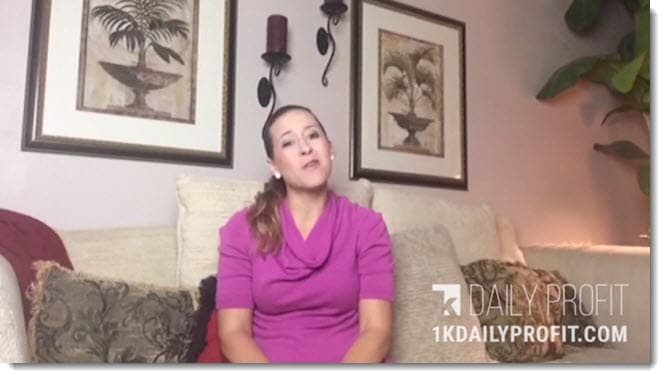 If she's really making that money, why is she providing natural video testimonials for £3.85 instead of enjoying life in the Caribbean?
You can find her service at fiverr.com, just check it out!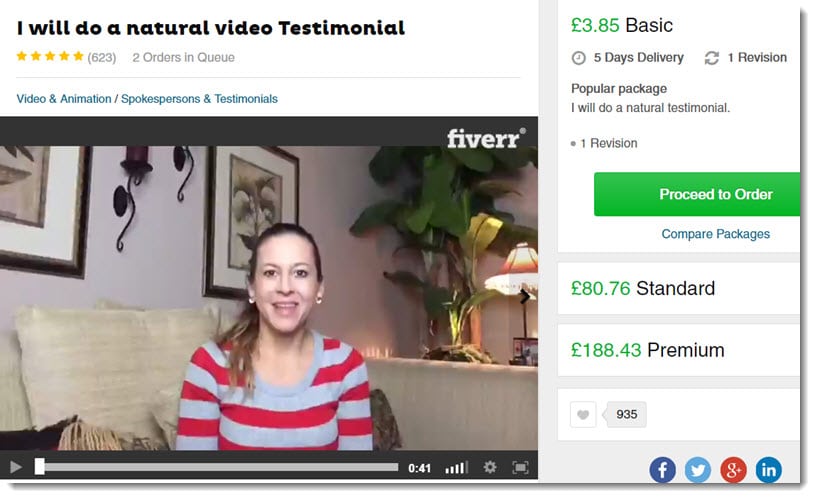 The same thing I can say can be said about all the other testimonials. They are all actors! Can you trust anything this website is saying after all that? No way!
Binary Options is Extremely Risky!
Binary options is a very risky type of trading through which most people literally gamble in the financial markets. You have to fund the broker's account with at least $250, choose an asset (currency, indices, stocks, commodities), and decide the price will go up (call) or down (put) after a short time.
Let's say you choose gold as an asset and you place a call with an expiry time of 15 minutes. You look at the gold vs. time chart and you see something like this:
Heck, with so many peaks and troughs it's impossible to predict what's going to happen after just a few minutes!
Well, if you are correct, you win 70-85% of your investment, but if you are wrong, you lose 100%. Can you see you are in a big trouble here? The Broker has a huge advantage over you, and in my opinion, it's much worse than gambling. It's very difficult to make a profit in this system.
With that said, binary options is extremely risky and is specially designed to suck people's hard earned money. Like a casino!
Does 1k Daily Profit Software Work?
The software algorithm is said to increase winning trades significantly, but that's the same tactic used by thousands of other binary options promoters.
The simple truth is: No software is able to predict the financial markets with any level of accuracy! If that was the case, everyone would be stinking rich by now.
1 k Daily Profit doesn't work!
It's funny that the video says we shouldn't worry about losing a trade and, at the same time, warns that trading in binary options involves a risk of partial or full funds loss.
You can see this statement at the bottom of the page:

$250 to Get Started!
John Becker said this system would not cost you a dime, but you still have to fund your account with at least $250. Then you will have access to the auto trading software as you can see here.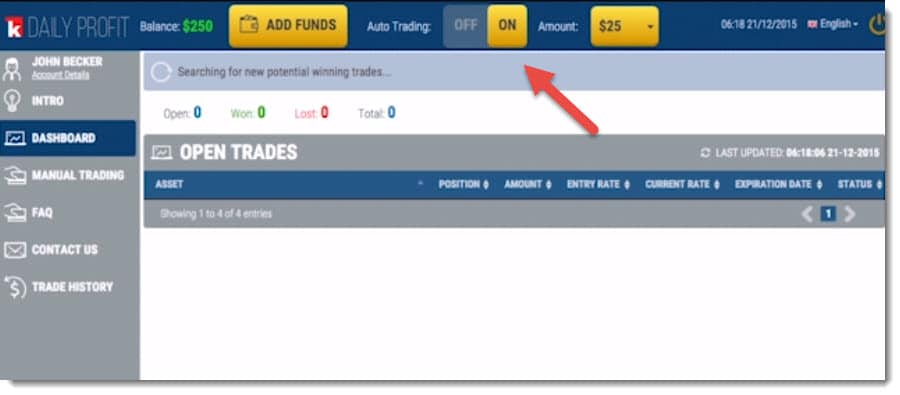 Because it doesn't work the way that it's been promoted and because the broker has a huge house edge, you will be in serious trouble to recover the money.
I have reviewed many binary options scams such as Auto Profit Replicator, The Canuck Method, and Instant Income App. They all look the same!
The owners always hide behind fake stock photos and urge you to act fast for a free opportunity to become rich.
My Sincere Advice To You
If you don't want to lose your money, the best thing you can do is to avoid 1k Daily Profit like the plague. Binary options are risky by nature, but if you trust this website, you can increase that risk to insane levels!
A reliable method to make a substantial income online is called affiliate marketing. You can really free yourself from the 9-5 job if you put in time and effort into your own online business.
An online business is safe much less risky than binary options. It's also much more fun and satisfying because you can create something around your passions and help people at the same time!
Check my #1 Recommendation to learn affiliate marketing and start building your online business. I can assure you this is the best platform to get the proper training and support to make passive income online. Take advantage of their free trial and see how it goes!
That's all for now. I hope you make an informed decision and don't take the unnecessary risks. Remember, you can only achieve success online with practice and perseverance… No software can make you rich overnight.
Your friend
Stefan