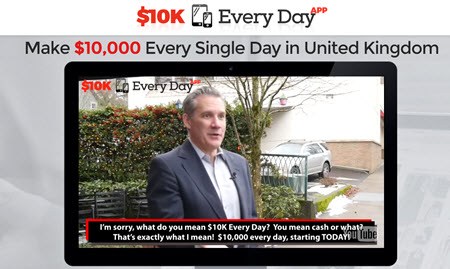 Can you imagine earning 10K per day with just one click? Yes, that's exactly what Richard Banks is trying to convince you his software can do! I know you are very skeptical the same as I am, so is 10K Every Day App a Scam or Legit?
Read this review before you invest any money into this crazy system. I am going to reveal why you should run avoid it at all costs.
It's possible to make a substantial income online and live life on your own terms. Check out my #1 recommendation to become an online entrepreneur and follow the right strategy.
10K Daily Review
---
Product Name: 10k Every Day App
Website: www.10keverydayapp.co
Price: $250 (minimum deposit)
Strategy: Binary Options
Owner: Unknown
Score:

0/10
What is 10K Daily?
---
10K Every Day is a binary options software that is said to make shocking sums of cash. You don't need any experience as the algorithm picks winning trades 100% on autopilot.
All you need to do is fund the broker's account with at least $250, activate the app and watch the profits roll in.
It's hard to believe!
Run Away From Binary Options
---
In Binary Options you have to decide whether the market will go up or down after a few minutes or hours. It's very risky because prices fluctuate widely according to many factors in the economy, weather, and politics.
The platform where you place your trades is owned by the Broker, which is basically a gambling institution. Why? Because you are just betting on asset prices, rather than buying the actual asset.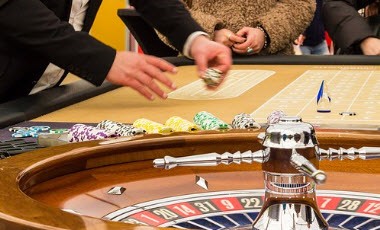 The thing is, this type of gambling institution has a significant edge against you. Which is pretty tough to beat! For example, if your proposition is correct, you earn 75-80%, but if you are wrong, you lose 100%!
So, even if you get 50% correct, you still not doing to break because the odd is against you as I already said.
It's too risky!
No Software Can Predict the Market
---
10K Daily App is just one among thousands of trading robots that flood the internet every year. They all promise low risks and massive profits.
The truth is that no one can predict future events that affect the market. I mean, you can make a guess, but you can bever be 100% sure something is going to happen. As a result, no software can predict the fluctuations either.
What we have here is a useless piece of software (bait) that is used to lure people into the risky world of binary options.
Once you activate 10K Every Day App, your money will be at serious risk. Don't let them fool you!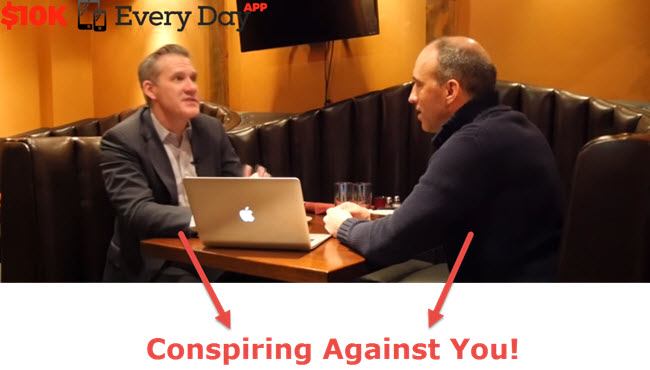 Everyone Wins While You LOSE! 
---
You already know that brokers are making easy cash from people's hard earned money.
Now, when you make a deposit, the broker will pay a big commission to 10K Daily. Not only that, every website owner who promotes 10k Daily effectively will also earn a commission.
Therefore, you should never trust a site that says positive things about auto traders. It's 100% biased and misleading because they want you to click their link no matter what.
Conclusion – Is 10K Daily a Scam? 
---
In my opinion, yes. I have reviewed lots of other auto traders such as The Oxford Method, BO Millionaire, My Profit Formula, SnapCash Binary, to name just a few. So I can spot this type of scam from very far…
Don't be the next victim of binary options fraudulent systems. Avoid any website that promises huge returns with no risk and no effort!
Verdict:

Scam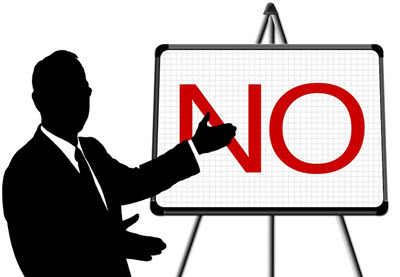 A Safe Strategy to Make Money Online
---
Imagine how different your life would be if you didn't have to wake up early to face the daily commute and your stressful boss? Imagine being able to set your own schedule and work from the comfort of your home!
Yes, it's possible and more and more people are reaching that lifestyle thanks to the internet.
The best way is to build an online business, which is basically a website/blog with lots of helpful content. It's simple as that. The more visitors you get on your site, the more money you will make!
We spend years and years in formal education only to enter the competition in such a fierce job market. Yet, many people think they failed for not making a single penny within the first six months.
It takes time and effort to build a highly profitable online business, but with the right knowledge and mindset, everyone can succeed.
If you are interested to create and online business, check out my #1 recommended training program. They will guide you through every step of the way to achieve a full-time income online. It's working for me and for thousands of others, so I can assure you will be in good hands.
I hope this article was helpful to you. If you have any question, feel free to drop me a comment below.
Your friend
Stefan