GoldenClix Review – Is It a Scam or a Legit PTC?
In this review, I am going to cover all you need to know about GoldenClix and give you my honest opinion about it. Is it a scam or legit?
Let's find out!
By the way, if you want to discover the same strategy that earns me over $900 per month from my laptop, check out my No.1  recommendation. It's not as easy as clicking on ads, but it's worth pursuing something that can change your life.
PlanetClix Review
---
Name: GoldenClix
Website: www.goldenclix.com
Price: Free to join
Business type: PTC (paid-to-click)
Earning Potential: Low
Recommended? No

[yasr_overall_rating size="medium"] 2.2/5
What is GoldenClix?
---
GoldenClix is mainly a paid to click (PTC) where you can also earn money by referring others, completing offers, and taking surveys. It was created in 2012 and has currently over 380,000 members.
The owner of GoldenClix is Edin Ikanovic, from Croatia, who also operates FamilyClix and SilverClix.
The front page says you can earn up to $0.01 per click and $0.01 per referral click. It's impossible to earn a decent income viewing ads, so if you want to increase your earning potential, you will have to use the offerwalls or take advantage of the referral system.
Is GoldenClix a Scam?
---
I don't think GoldenClix is a scam for the time being, but I don't advise you to trust blindly on any PTC site.
Apparently, from 2013-2014 many people were having issues with payments and calling Goldenclix a scam. However, during the last 2 years, people have been posting lots of earning proofs on different forums such as netbusinessrating.com.
You should know that Edian shut down other PTC sites in the past such as Adzpot, Clixdo, Balkanikaclix, and BearBux,
I have reviewed dozens of PTC sites during the last three years and witnessed some of them going out of business.
There is always a risk these PTC sites stop paying and shut down without notice. Therefore, if you want to use GoldenClix, you should proceed with caution and only invest what you are comfortable losing.
I also need to warn you about their referral system as I know some PTCs use bots to generate fake referral clicks. I don't know if GoldenClix uses bots, but if they do, you won't make any profits with your rented referrals.
Many people lose money with PTC sites because they believe their referrals are real and will remain active for a long time. Well, that's not always the case.
Pros and Cons
---
Pros
Free to join.
There is a forum.
Bitcoin payment available.
Cons
Very low-income potential.
No Paypal payments.
Expensive upgrades and referrals.
Purchasing referrals and upgrading are risky strategies.
Viewing Ads – Is it Worth It?
---
Viewing ads is the easiest but certainly, the most ineffective method to make money online.
You will earn anywhere between $0.001 and $0.0001 for clicking on each ad and waiting on the advertiser's page for about 10-30 seconds.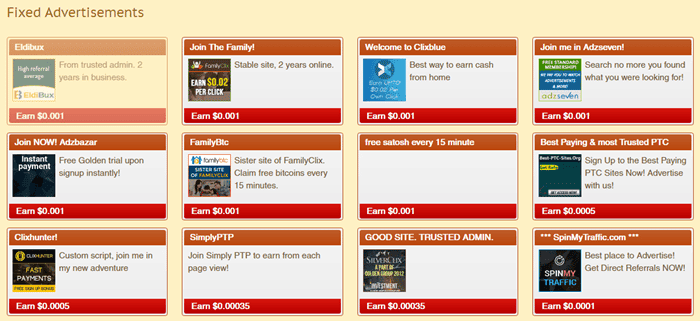 There are around 25-26 ads available, so you can expect to make less than $0.03 per day! The question is: How many ads do you need to click on to earn $1?
More than 1000! That's why many people decide to upgrade and start investing in referrals.
Referral System
---
Referrals are members that you invite through your referral link. When then join GoldenClix via your unique link, they become your direct referral, and you will start earning $0.0014 for each ad they view. 
If you upgrade your account, you will be able to refer more people and make more money per referral click. The problem is that the cheapest memberships cost $22.50 (Silver -30 days) or $25 (Bronze – 180 days).
Therefore, you will have to get hundreds or thousands lots of referrals to cover your membership costs and make a profit. However, getting direct referrals through your link is very difficult if you don't spend a lot on advertising. It's a risk, and many people end up with a loss! 
Like most PTC sites, GoldenClix gives you the option to rent or purchase referrals.
1 referral costs a hefty $2, and the problem is that only a tiny small percentage of your referrals will click on ads.

In my opinion, such investments are highly risky because referrals are usually inactive or not even real!
Offers 
---
If you prefer a less risky option to make money with GoldenClix, you can complete offers and surveys with various Offer Walls.
There are many third-party options to choose from such as PersonaOffers, OfferToro, PaymentWall, and PeanutLabs (not recommended).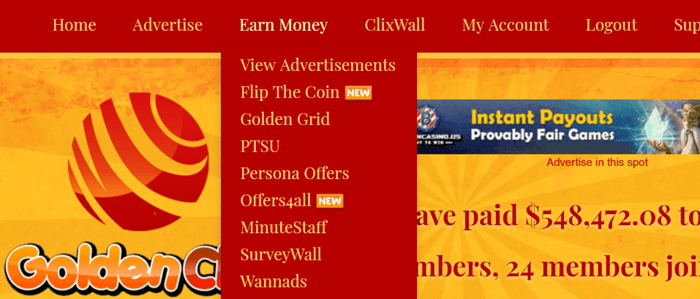 There you can find different types of offers, including free and paid ones. You need to be careful with some offers, especially those that require a subscription to a 14-day trial with your credit card.
With that being said, make sure you always read the terms and conditions carefully.
Cashing Out
---
PlanetClix is currently accepting Payza, Payeer, Bitcoin and Perfect Money.
If you are withdrawing for the first time, the minimum payout is $5. After that, the minimum requirement gradually increases to 6 – 7 – 8 -9 – 10.
For upgraded members, the minimum requirement for the second withdrawal onwards is only $2.
Final Thoughts
---
I believe PlanetClix is legitimate for now. But because of the nature of the business and the fact that the owner has already shut down other PTC sites in the past, there is a possibility that something goes wrong.
Unfortunately, PTC sites are widely unregulated. They can easily ban your account for no reason and forfeit your earnings to make a guaranteed profit for the owners. 
At the end of the day, the platform is THEIR playground, so you have no control over your earnings.
How I Prefer to Make Money Online
I am not a fan of any PTC sites because of the very low-income potential and high risks. I'd rather grow my own online business and make money with affiliate marketing.
I simply write helpful articles on my site and promote only the products that I think will benefit my audience. You can do the same and create a website on any topic you want!
Affiliate marketing is very powerful, and everyone can get started with no technical skills and very little startup capital. When I got started 2 years ago, I was a complete newbie, but after following a great step by step course, I undertook the process and started implementing the strategy little by little.
I have achieved great results since then, and now I am making consistent commissions that amount to over $900/mo.
If you want to discover the platform that I use since I started my affiliate site in 2015, check out my no.1 recommendation. They have a free starter membership that includes 10 free lessons, support and all the tools you need to grow your affiliate business. It's a great place to start.
Check Out My No.1 Recommendation Here
Thanks for reading, and I hope you find this GoldenClix review useful. If you have any questions, please feel free to ask in the comment section below.