3
Is Four Dollar Click a Scam? Will You Cash Out at $4,000?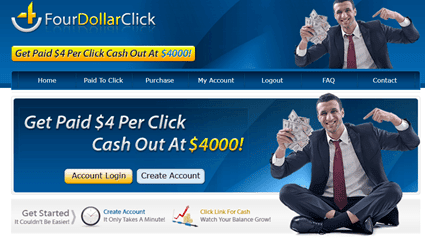 Imagine earning $4 just for clicking and viewing an ad! That's what Four Dollar Click is claiming you can make if you join their platform. Can you believe that? I'm sure you don't, and that's why you are here!
So, is Four Dollar Click scam or a legit strategy to achieve financial freedom?
I'm here to expose the truth and the reason why you need to be careful!
If you want to learn the method that earns me $1,000+/mo from my laptop, then check out my #1 recommendation. 
Four Dollar Click Review
---
Name: Four Dollar Click
Website: www.fourdollarclick.com
Price: $59.99 (min)
[yasr_overall_rating size="medium"] 0/5
What is Four Dollar Click?
---
Four Dollar Click is a website that is using the concept of "paid to click" (PTC) to convince members they will make $4 per ad view.
Operating PTC sites that pay fractions of a cent per click is already a big of a challenge, let alone one that pays $4 per ad.
It's just a pipe dream!
In fact, I reviewed similar sites that promise even more money such as Six Dollar Bux, Seven Dollar PTC, and Seven Dollar Click.
The reality is that none of these sites can afford to pay that much just to view ads and I 'll show you why.
Why Four Dollar Click is Just a Pipe Dream
---
It's essential to understand that PTC sites generate revenue for themselves by selling traffic (web visitors) to advertisers.
They charge advertisers for a certain number of clicks (visits) and reward members for viewing these ads.
So, the difference between what the charge advertisers and what the pay you for clicking on ads is their profit.
Back to Four Dollar Click, if you click on "purchase," you will discover that they are charging advertisers $10 for 1000 hits. It's a measly $0,01 per click!

The question is: how the heck can they afford to pay you $4 if advertisers are only investing $0,01?
It's IMPOSSIBLE! They can't!
How Does it Work?
---
Signing up for Four Dollar Click is free, but as soon as you log in, you will discover something important:
You can only withdraw your earnings if you purchase any of the 9 memberships available.

All memberships are extremely expensive!
For example, the Bronze membership, which is cheapest one, costs $59.99 per month or $799 (lifetime access).
Some people may suggest that Four Dollar Click is a Ponzi Scheme which uses money from new investors to pay old ones. Still, it wouldn't work for more than a few days!
Not only they entice you to purchase memberships that offer no value, but they also encourage you to buy referrals.
Each referral costs $4, and the referral commission depends on your membership level. For Bronze, it's 25%, and for Gold, it's 100%!
In other words, whenever your referral earns $4, you will make $4 as well.
That's insane!
Will You Get Paid?
---
In order to request the payment, you must reach $4,000 in your account balance.
I don't think they will pay anyone because as I told you, the business model is unrealistic.
If You Want The Truth, Just Read The Terms And Conditions!
---
Very few people read the "terms of use" before they decide to join Four Dollar Click.
If you open that page, you will see the following statements that are both shocking and clarifying:
The first one is regarding refunds:
All payments and purchases are services rendered and non-refundable.
The next one gives them the power to do whatever they want with your account:
Four Dollar Click reserves the right to restrict, alter, or modify fees, benefits, rules, regulations, special offers, membership terms and conditions or terminate services any time and without notice. 
And finally, the next one claims that all earnings are just estimations and not real values.
All earnings listed and or represented by FourDollarClick.com are estimated values, actual values are subject to change with or without notice. 
In other words, there are many excuses they can use to reject your payment request.
Two Curious Facts About Four Dollar Clicks
---
Here are two curious facts that I discovered:
On the home page, it says Four Dollar Clicks has 85,365 members, but at the moment, there was only one visitor online. It's probably me!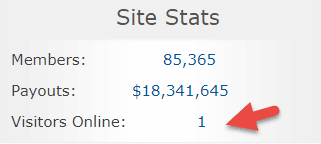 Think carefully, folk! If this site was really paying $4 per click, don't you think it would be more popular than Facebook, Youtube, and Google combined? Of course it would!
Surprisingly, the site accepts PayPal payments. So, in case you have a gut feeling that you won't receive your $4,000, don't hesitate to open a dispute with PayPal.
Four Dollar Click is threatening to ban your account if you do that, but I am sure you will be more interested in recovering your investment.
Conclusion
---
I wouldn't invest my hard-earned money into a website that makes unrealistic income claims.
Four Dollar Clicks has a terms and conditions that gives them the power to reject your payment and ban your account.
They decide if the will pay you or not!
To be honest, the probability of earning the lottery is probably higher than making $4,000 with Four Dollar Click.
How frustrating would it be to waste $59 on a membership that doesn't offer you any product or service?
Verdict: Not Recommended
How I Make Money Online
---
Basically, I have this website that is working for me 24/7 and generating an income through advertising.
I write articles such as this review and promote products that I trust.
When people buy from my affiliate links, I earn a commission.
Before you think about money, though, you need to put in the time and effort to attract visitors to your site. You do this by creating content that people are searching for on the internet.
It's a long journey, but in my opinion, it's worth it!
If you want to learn step by step how to set up a website and make money, check out my #1 recommendation.
It's a remarkable training community that will give you not only knowledge but also support and tools to create your internet business.
Thanks for reading this Four Dollar Click review. If you have any questions, please let me know in the comment section below.
Stay safe!