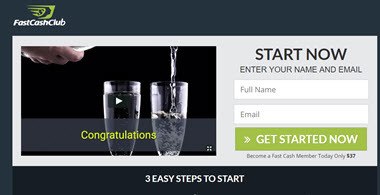 Welcome to my Fast Cash Club review!
I found this website yesterday while I was searching for new opportunities to make money online.
The founder of Fast Cash Club is claiming his system can help you earn over $2,000 per day, just like other 117 members.
Now, you are wondering, is Fast Cash Club a scam or legit opportunity? Is it really a product you can trust?
In this review, I am going to show you how this system works and give you my honest opinion about it.
By the way, if you want to learn the proven method that earns me $1,000+/mo from my laptop, check out my #1 recommendation!
Fast Cash Club Review
Name: Fast Cash Club
Website: https://www.fastcashclub.co/
Price: $37 + Upsells
Founder: Unknown – John Harris is the fictitious name used by the author, who doesn't want to expose his true identity.
Overall Rating:

1/5

Recommended? 

No
The Hype
---
At first glance, Fast Cash Club looks like one of those get-rich-quick schemes that are widespread on the internet.
The founder tells you about possibly of earning thousands of dollar per day with just a few easy steps.
Thanks to his drag and drop profit system, you can start seeing profits on day one.
Note that he doesn't make any promises that you will make money.

This reward platform is going viral! Cash out via PayPal, Visa, Gift Cards, and in-game currencies - Click here to find out how to generate an extra $10+ per day! 
However, he makes people believe that his system is somewhat different and thus, may create unrealistic expectations. 
Also, he gives the false sense that the system will do all the hard lifting for you, which is not the case!
Right at the beginning of the video, there is a guy who claims to have made over $7,000 in 7 days, working just 20 minutes per day.
Now, many people earn thousands of dollars per day using the Fast Cash Club business model. There is no doubt about that!
However, don't expect you will start making huge profits quickly just because you purchased the Fast Cash Club membership.
By the way, all those testimonials are fake, and I am going to prove to you.
Tired of scams and risky strategies to make money online? Check out my top recommendation here!
What is Fast Cash Club? 
---
Fast Cash Club claims to be the easiest and most powerful way to make money with Shopify stores.
It's basically a step by step program that will help you build an eCommerce business.

You will learn how to set up your online store, select products to sell, get traffic to your site among other relevant strategies to grow your business.
Fast Cash Club is a product for sale at a digital marketplace called Clickbank, where you can find many other info products.
Many of them are incredibly overhyped just like Million Dollar Replicator, Cash Formula, and Fast Cash App.
Pros and Cons
---
Pros
There is a helpful training available.
Yes, you can make a lot of money with Shopify stores. Just don't expect you will get easy and fast results.
You can get a refund within 60-days.
Cons
Unrealistic income claims.
There is no information about the owner – We don't even know his real name.
Fake testimonials.
Expensive upsells.
How Does Fast Cash Club Work? 
---
After registering with your name and email address, you will be directed straight to the checkout page, where you have to pay $37.
Bear in mind this is just the front-end product!
After you place this first order, you will enter a sale's funnel where they will try to push you multiple upsells that cost hundreds of dollars.
If you want to take advantage of all the products, you will have to fork out over $500. I am not joking!
As I said, you will learn how to build an eCom business, which works by ordering products individually from a wholesaler and shipping directly to customers.
The advantage of this type of business is that you don't have to handle inventory.
Once website visitors buy an item from your website, your job is to place the order with the supplier (usually from China), who will ship the product directly to the customer.
It's a very lucrative business if done correctly, BUT there are risks involved.
For example, you will have to rely mostly on paid advertising to get traffic (visitors) to your site. If you don't make enough sales, you can lose money.

Warning Signs
---
Here are some warning signs (red Flags) you should be aware of before deciding to purchase Fast Cash Club.
Red Flag #1 – Fast Cash Club Was a Binary Options Trading Software
That's right!
In 2016, Fast Cash Club was one of those binary options websites, encouraging people to invest $250 in risky binary options trading.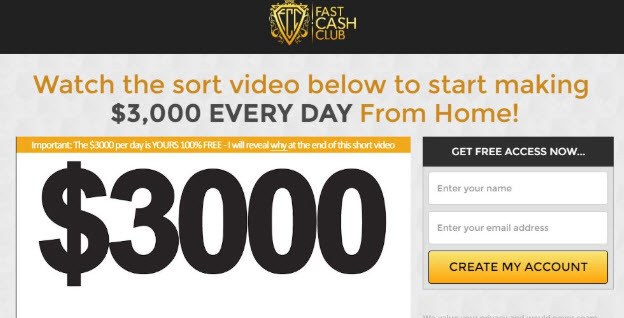 They claimed their software had a 98% accuracy rate, which was total BS.
Once people started trading with the broker, they would quickly lose all their investment!
I don't know whether the site was sold to another person or the owner decided to change his business model.
The fact is that three things stayed the same:
The hype.
The website name.
The pseudonym John Harris.
#2 – Unrealistic Income Claims
I know it's possible to earn $1000 – $2000 per day with an eCommerce business.

The problem is emphasising that you can reach that income level in 30 days working just 20 minutes per day.

If you want to start an online business, you should understand that it takes time and effort, and there are no shortcuts to success.
#3 – Fake Testimonials
There are some testimonials in the video that are used to convey more credibility, but those are all actors faking it!
I know that because their faces are pretty familiar to me!
I've seen them on the sales page of other "make money online" programs such as the Million Dollar Replicator.
You can find them selling spokesperson gigs on a popular freelance platform called Fiverr.
Here is the proof: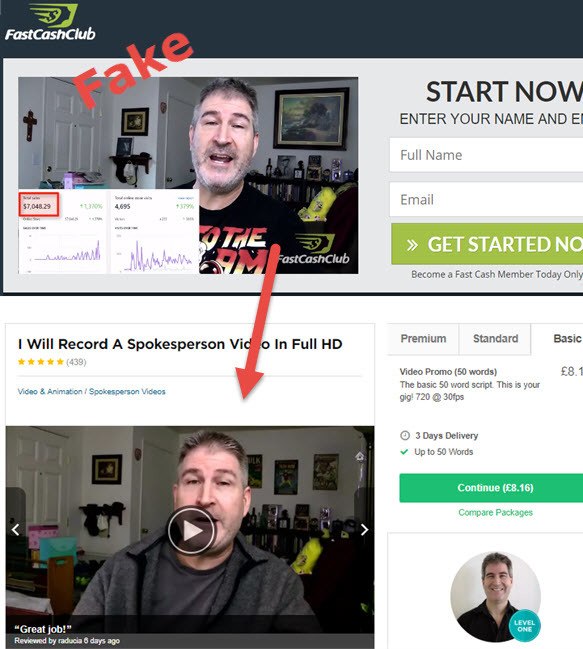 Now, there is nothing wrong with hiring a spokesperson to explain and promote a product.
But when you pay someone to act like a real person and give unproven income claims, that's when things start to get VERY dirty!
According to the FTC, fake testimonials are considered deceptive advertising.
#4 – No Information About the Owner
Most legit companies or websites have an about us page, which tells a little bit about the author or founder.
Fast Cash Club doesn't provide any information about the author. Heck, we don't even know his real name!
If you visit the Disclaimer page, you will see that John Harris is a pseudonym.
What about his picture? Is he really that "alpha male" guy?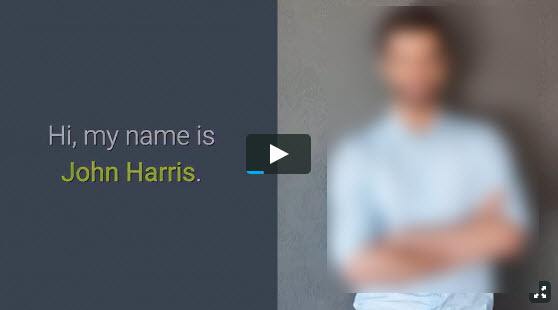 Nope! That is a stock photo anyone can buy from a website called Shutterstock.
Sorry for the blurred picture, but I don't have the copyrights of that image. Instead, I am going to post a link so you can see for yourself:
Link: https://www.shutterstock.com/pt/image-photo/handsome-confident-young-man-shirt-keeping-271431128
Conclusion – Is Fast Cash Club a Scam? 
---
There are many reasons to believe Fast Cash Club is a scam, but I prefer to leave the proper definition with the authorities.
They will give you the education to set up and get traffic to your Shopify store, so it's not a rip-off.

Besides, you can ask for your money back within 60 days if you are not happy with it.
The main problem is the way Fast Cash Club is being advertised.
They use fake testimonials and give people unrealistic expectations about the eCommerce business. I don't think the sales page is conforming to the FTC standards.
How I Make Money Online
---
In 2015, I discovered an excellent step by step program that showed me the proper way to build a website, attract an audience and make money as an affiliate.
The reason why I chose this platform was that the owners were 100% transparent and upfront since the beginning.
They didn't promise me I would make a ton of money quickly and easily. They showed me the way, and I knew beforehand it would take time and effort!
The online revenue that I earn is not enough to live a luxury lifestyle, but I am glad it covers all my living expenses in London.
One of the greatest perks of running an internet business is that it allows me to travel while making money on the road.
If I want, I can travel to cheaper places and live a digital nomad lifestyle, which was a dream of mine since the beginning.
I hope my Fast Cash Club review was helpful to you. If you have any questions, feel free to leave me a comment below.
Stay safe and peace out!