Is Capital of News a Scam? BE CAREFUL!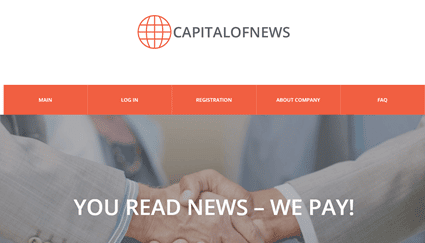 I needed to warn as many people as possible about a website called the Capital Of News. These guys are promising to pay $3 for every article that you read. Yep, it's that simple!
Of course, I couldn't believe my eyes when I saw this for the first time. So I decided to sign up and investigate. Is capital of is a scam or legit?
Take a look at my findings below before you waste your time!
Highly recommended: Discover a proven method that earns me $1000+ per month from my laptop, check out my #1 recommendation.
Capital of News Review
---
Name: Capital of News
Website: http://capitalofnews.com
Owner: Unknown
  

0/5
What is Capital of News?
---
Capital of News claims to be a company created to connect mass media and readers.
Thanks to their business, they are supposedly helping mass media get an interested audience while rewarding readers for the effort.
The FAQ page states that you will get $3 for every article you read, which is, according to them, 80% of what news companies pay.
Now, guys, that is completely BS!
News websites will never pay that much to promote their articles. Not even a cent!
Well, the absurdity doesn't stop here…
They also claim that if you share your affiliate link on Facebook, you will earn $60 for each referral you invite plus 15% of their earnings.
Is Capital of News a Scam Then?
---
I am very confident that this site is a scam because no real company would be crazy enough to pay thousands of dollars for someone to read their stuff. That makes no sense at all!
It's crucial to note that the owner didn't include the Terms and Conditions, nor the Privacy Policy!
Heck, there is absolutely no information about who operates the site.
If you click on "About Company," you will see it basically explains the income opportunity, but not a single word about the company.
Let me show you how Capital Of News is making money and why you need to avoid it at all costs.
How Does it Work?
---
The signup is free and just requires your name, email address, and password.
After you log in, the first thing you will see is the list of articles.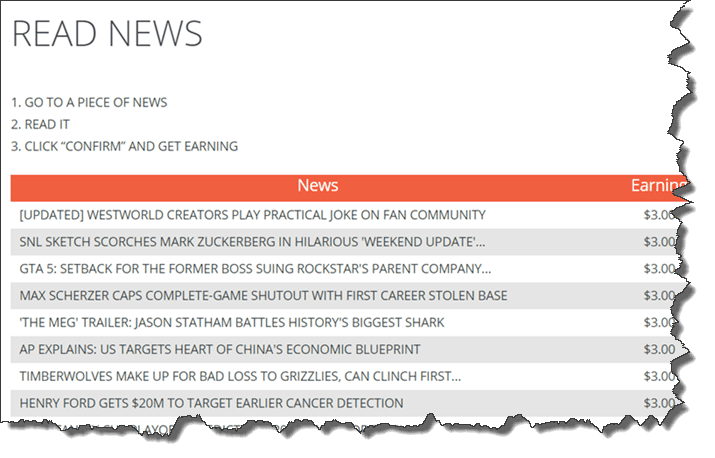 They say we need to read it and then click confirm. But in reality, you don't even need to open the article.
If you click confirm button and solve a simple math test (captcha), then three dollars will be credited to your account.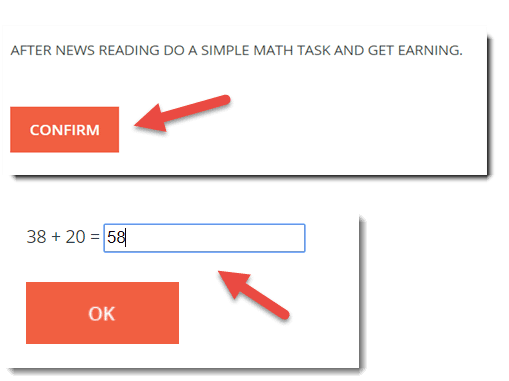 Simple, right?
Well, the problem is that in order to cash out, you need to reach the minimum balance of $900.
Well, that is probably a trap because once you reach $900, some people are claiming that they will ask you to refer an x number of people. But when you do that, they will increase the requirement over and over again.
I have searched the internet and haven't found anyone who got paid. Still, how can we know if that is true?
As I know this business model is totally unrealistic, I will not waste my time trying to reach the $900.
Testimonials
---
Here is some testimonials that people left on their YouTube video:



How Are They Making Money?
---
They are certainly making money by displaying advertising (Adsense) in the member's area.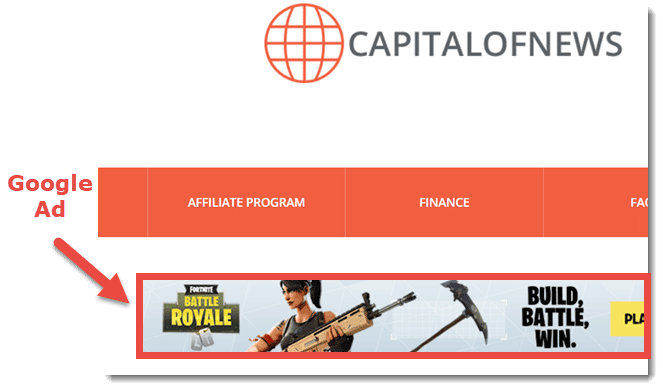 However, I suspect there are also two other more profitable ways.
They are probably earning revenue by driving traffic (clicks) to those websites on the list. Each click will likely earn them one cent or less.
It's not much but when you have lots of people clicking on lots of links daily, it all adds up at the end of the month.
Another possibility is the selling of your personal data (email and name) to third-parties without your consent.
You see, marketers and companies are willing to pay a good price for a list of emails so they can market to. Have you ever thought about how spam reach your inbox every day?
As I said, Capital Of News doesn't provide a privacy policy page, which is required by law in most countries.
That means they are not worried about your privacy and, and I know many companies will sell or use your email for marketing purposes.
WARNING!
Because the website is very suspicious, and even if it wasn't, I strongly advise you never to provide the same email and password you use on your email and internet banking accounts.
There is a chance your password won't be encrypted.
Conclusion
---
In my opinion, Capital of News has all the red flags of a typical internet scam. But I can't point my finger without concrete proof. In theory, I it's very unlikely a company will pay $3 just to open the articles.
How I Make Money Online
---
I method that I use is called affiliate marketing. I simply write informative reviews on my website and promote products that I trust.
There is no secret to it, and there are many successful affiliates who were able to quit their jobs and live the internet lifestyle.
I know from experience that it is highly profitable as I am currently making over $1k per month in affiliate commissions.
Anyone can reach the same or even better results than mine by following the same step by step that I applied 2 and a half years ago.
You can learn more about the steps by visiting my #1 recommendation review.
Click Here and Check Out My #1 Recommendation Review
Thanks for checking out this Capital of News review, and I hope it helps to save your time and patience.
All the very best.
Stefan