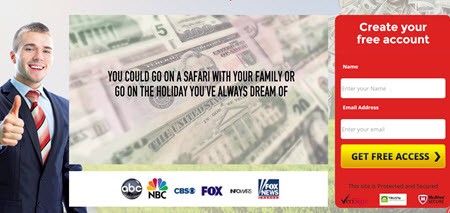 Clark wants to share with you the same software that earned him millions in a few months. All you have to do is set up a binary options software and wait for the profits to roll in.  I know you are very skeptical of all that talk, so is BO Millionaire a Scam or a life-changer?
Read on as I will uncover the truth behind this system.
For a safe strategy to earn a substantial income online, check out my #1 recommendation.
BO Millionaire Review
---
Product Name: BO Millionaire AKA Binary Options Millionaire
Website: bo.bomillionaire.com
Price: $250 (minimum deposit)
Strategy: Binary Options
Owner: Unknown
Score:

0/10
What is BO Millionaire?
---
BO Millionaire is a software that is supposed to predict the financial markets and place trades in binary options. You don't need to have any experience with the markets, as the algorithm is developed to do all the hard work for you.
Contrary to what they said the beginning, you will need to fund the broker's account with at least $250 before you start trading.
Don't do that as the probability of losing everything is very high!
Fake Testimonials
---
Scammers in the binary options industry always hire actors from Fiverr.com to provide fake testimonials. Nobody is making money with the system. That's why they need to pay for a gig.
Take a look at this couple: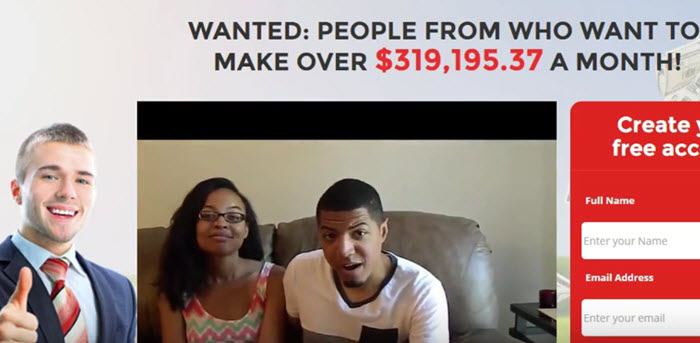 Here you can see their profile at Fiverr.com charging £3.98,  £11.93 and £27.84 per testimonial.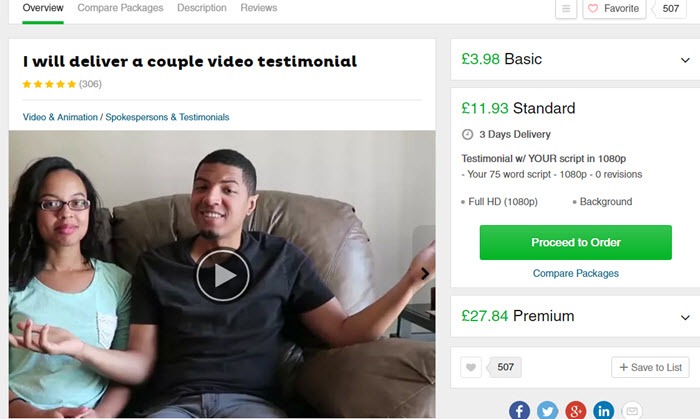 Yep, there is whole productive chain to deceive you.
Extremely Risky! 
---
In binary options, you have to decide whether the market will be above or below the current price of whatever asset you are trading. The trades are done over minutes or hours so, everything happens very fast compared to investing in stocks, for example.
If you are correct, you can expect to earn around 75% of what you put on. However, if you are wrong,  you will lose all that money.
As you can see, the house (broker) has got a big edge against you!
Now, because the market is unpredictable, the Brokers are always making huge profits. That's why 99% of people lose a lot of money with binary options! It's just gambling! 
No Software Can Predict the Market
---
When you research about binary options on the internet, very often you will see websites talking about these auto trading robots. They want you to buy these stuff, but the reality is that nothing can predict the market. BO Millionaire App is no different.
A broker is just a gambling institution that takes your hard earned money when you make a wrong guess. So if there were a software able to increase winning rates, the brokers would promptly bail out.
Nothing can predict the future events in politics, economy, and weather. Thus, no software can't predict the market, period.
How Will They Make Money From You? 
---
The software is free, but BO Millionaire will make a generous commission when it refers you to the broker's platform. But they are not the only ones who are making money in the process.
Other website owners are also taking a big slice of the pie by referring you to BO millionaire platform. Therefore, don't trust anyone saying positive things about this system. And if they recommend another auto trader, run away because they are all SCAMS!
Conclusion – Is BO Millionaire a Scam? 
---
I am 100% sure BO Millionaire is a fraud! I have seen lots of people waste a fortune in this highly risky and dodgy business. So, I know exactly how it works…
Don't be the next victim! Avoid any site that promises riches overnight with one click.
Can You Still Make Lots of Money Online? 
---
Yes, absolutely!
However, you need work smart and follow a proven and effective strategy. So, how people are making lots of money online? Well, most of them have an affiliate marketing business.
You can start small, with little capital and grow gradually over time. The more effort you put into it, the faster your results.
Yes, it's possible to achieve freedom working from home.
If you want to start your online business, take a close quick look at my #1 recommendation. It offers step by step training and the most supportive community you have ever seen.
I am a member of this platform for over a year and it's helped me reach $500 in passive income so far. What's exciting is that it keeps growing and more time and effort I put into it.
I hope this article was eye-opening. If you have any question, feel free to drop me a message below.
Your friend
Stefan