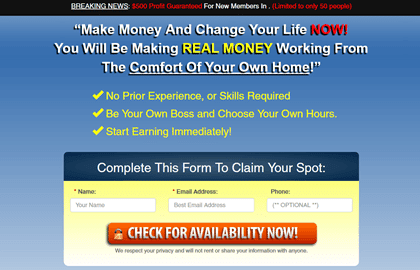 Today I discovered a site called Big Profits Plan, which claims you will be your own boss and make $5,000 – $10,000/ week from the comfort of your home.
Can you really trust Big Profits Plan to make money online? Or is it a big scam? Find out in my review below!
By the way, if you want to discover the real method that allows me to make $900+ per month from my laptop, check out my No.1 recommendation.
Big Profits Plan Review
---
Name: Big Profits Plan
Website: www.bigprofitsplan.com
Price: $47 up to $27,997
Owner: Unknown
The Hype
---
Big Profits Plan seems like a dream come true for many people who hate their 9-5 job.
The front page says you will be able to start making money immediately without any experience or skills.
Besides, they say $500 is guaranteed for the first 50 new members. Are you serious?

What Exactly is Big Profits Plan?
---
Big Profits Plan is an affiliate website. More precisely, it's a sale funnel that leads you to an internet marketing program called The Digital Altitude (aka Aspire system).

This reward platform is going viral! Cash out via PayPal, Visa, Gift Cards, and in-game currencies - Click here to find out how to generate an extra $10+ per day! 
That means Big Profits Plan is just connecting you to Aspire in exchange for affiliate commissions.
If you purchase their $47 entrance point membership or any other more expensive upsells, they will earn over 50% commission on every product you buy within that program.
Pros and Cons
---
Pros
The only pro is they are promoting a legit training that can help you make money online.
Cons
It gives you unrealistic expectations.
It connects you with an MLM company with very expensive products to become a recruiter.
It doesn't tell you what exactly you will be doing.
How Does it Work? 
---
After you insert your name and email address, you will see a video presentation, and a countdown with only a few spots left.

Free spots? No really…
They are basically using a scarcity tactic to entice people rush and buy out of impulse.
Through the video presentation, a guy called Richard Paul tells you that you are making $1 per second, but only if you watch and follow his specific directions. If you follow his instructions, he says the minimum you can make is $500!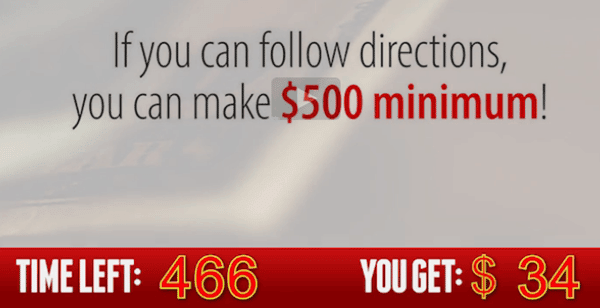 A few seconds later, Richard spill the bins and says he discovered a mathematical algorithm that can dump massive commissions into your bank account completely on autopilot. The software is called Profit Stackers.
What's interesting to know is that if you click on "get instant access," you will get to a page where you should purchase the Aspire training for $47.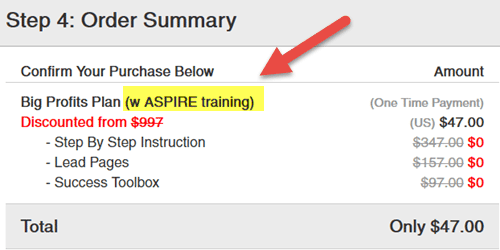 So, in reality, the ower of Big Profits Plan copied an advertising video of an old binary options software (Profit Stacker) to promote a multi-level marketing company called Digital Altitude.
Can You Succeed With Digital Altitude? 
---
Digital Altitude is an MLM company that is VERY similar to MOBE and Six Figure Mentors. In fact, the owner Michael Force was also one of the top leaders of these two organizations.
They all provide internet marketing training and tools for people to grow their online businesses.
I haven't written a full review of Digital Altitude here on my blog, but if you search the internet, you will find different opinions about it.
Some successful affiliates make over $1,000 per sale, which is insane!
However, most members will not reach the level of success required to achieve the so-called "laptop lifestyle."
The problem here is not that the training is bad, but it's overpriced and focuses primarily on recruiting other people to join Digital Altitude. 
You see, you can only promote a high-ticket product if you first purchase that same product. But as a beginner, investing $597, $1,997 and even $27,997  is a risk as only a small percentage of affiliates will succeed.

Similar to Other Sites
---
Big Profits Plan is identical to 500 Cash Club, and very similar to Massive Internet Profits.
Here is the front page of 500 Cash Club. It's the same!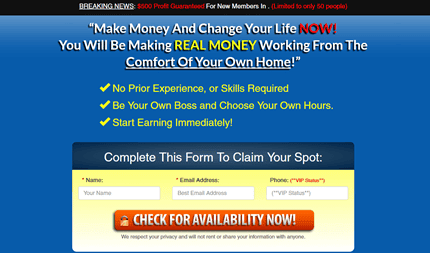 Conclusion – Is Big Profits Plan a Scam? 
---
The promotion of Digital Altitude is overhyped, but I will not call them scams. Digital Altitude is not a scam, so you will not lose your money entirely as you will get proper training.
The problem is that Big Profits Plan makes you believe you will reach results quickly and easily.
Besides, Big Profits Plan uses a promotional video of a binary options software to promote something completely different.
In reality, Digital Altitude is a training and online business platform, not a mathematical algorithm that predicts the financial market.
My #1 Recommendation to Make Money Online
If you're tired of the hype and want a proven strategy for making money online, check out my no.1 recommendation.
It will give you step-by-step training, expert support and all the tools you need to build a real online business and make money as an affiliate marketer. It's entirely newbie friendly and free to join!

It's helped me start as a complete newbie and reach $900/mo so far.
Check Out My No.1 Recommendation Here
Hey, thanks for checking out my Big Profits Plan review. I hope this helps you make an informed decision. If you have any questions, please feel free to ask in the comment box below.