Is 1DollarAdz a Scam? Can You Make $1 Per Ad View?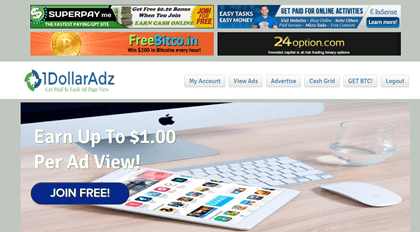 1DollarAdz is promising to pay you $1 for every click. But is it really possible? Is 1DollarAdz a scam or what?
Check out my review below before you spend your precious time on this platform.
By the way, if you want to discover the proven strategy that earns me over $900 per month online, don't forget to check out my #1 recommendation.
1DollarAdz Review
---
Name: 1DollarAdz
Website: www.1dollaradz.com
Price: Free
Owner: Unknown

[yasr_overall_rating size="medium"] 0/5
What is 1DollarAdz?
---
1DollarAdz is similar to most PTC (paid to click) sites, except it's promising to pay you $1 instead of less than 1 cent.
In a magic world, you would just have to click the ad, stay for a few seconds on the advertiser's web page and get your $1. If that was the case, I am sure the 1DollarAdz would be the perfect solution for people's financial problems.
Is 1DollarAdz a Scam?
---
1DollarAdz is somewhat similar to other  "PTC" sites like Six Dollar Bux and Seven Dollar PTC.
Personally, I don't think they can afford to pay $1 for an ad view. Why would they pay so much when there are so many popular options like Neobux, Grandbux, and Scarlet Clix who will charge less than 1 cent per ad?
Another red flag is the fact that most links, including "Terms and Conditions," "FAQ," and "withdraw" are directing you to third-party websites. Furthermore, there is no "about us" page, so you have no idea what the rules are and who operates the platform.
However, although, I have no concrete proof 1DollarAdz is a scam, so I can't make such a claim.
How Are They Making Money?
---
1DollarAdz is earning revenue from people who invest in ad spaces so that you click their links and join the websites they are promoting.
As you probably noticed, the site is full of ads targeting other "make money online" opportunities. That is because they know their audience is desperate for money!
So, what happens is they earn money from advertisers while you spend your time viewing ads without any guarantee of rewards.
Directing You to Malicious Links
---
Browsing this website is a difficult task because most links are redirecting to weird third-party sites.
For example, when I clicked on the FAQ link, it took me to a site that had a malicious link according to my Kaspersky anti-virus.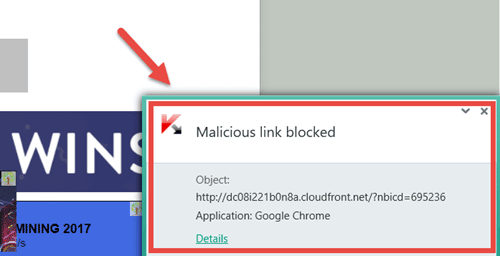 When I clicked "Withdraw" to see how they would make the payments, they directed me to the Oke.io, which is a link shortening service.
So, there is no way to redeem your money with 1DollarAdz, and you will find it hard to use the site. I couldn't even see the ads page as they direct me the Oke.io all the time when I click on "view ads."
Not to mention that many banner ads are promoting get rich quick schemes such as binary options software and high-risk bitcoin investment sites.
Final Thoughts 
---
I have no proof that 1DollarAdz is a scam, but I haven't found anyone on the internet who got paid. So, there is no proof of legitimacy either.
One thing I can prove, though, is the fact that the website contains malicious links.
Will all being said, I will never recommend 1DollarAdz or any other unrealistic PTC site.
Verdict: Not Recommended
What I Recommend
If you want to make a substantial income online, I urge you to stop playing on other people's playground and build your own online business.
It may seem too complicated in the beginning, but you are capable of this. I am sure you are!
There are lots of quality training out there that will teach you how to build a website and promote products as an affiliate marketer. But there are also lots of misleading programs that will just suck your wallet dry.
That's why I will recommend the training program that helped start my affiliate site from scratch, with no previous experience, and go from $0 to $900+/mo. 
The community is huge, and there is always someone willing to help you 24/7, which is why this platform is so unique.
Click here and check out my #1 recommendation. It's free to get started!
I won't lie to you. It took me two years of hard work to reach where I am now. But it was worth it because now I feel very close to quitting my job and go for a round the world trip in 2019.
That's it for now. Thanks for checking out my 1DollarAdz review, and I hope this helps you make an informed decision. If you have any questions, feel free to leave me a comment below.